World Mental Health Day
October 11, 2021
World Mental Health Day raises awareness and increases support of mental health locally and around the world.
For more than 55 years, StarVista has provided essential mental health services throughout San Mateo County, starting with its first program, the StarVista Crisis Center.
StarVista strives to serve approximately 40,000 residents in San Mateo County every year.
A Message from StarVista's CEO, Sara Larios Mitchell, PhD, MACP
Our Impact This Year
91% of homeless and foster youth exiting our programs move on to safe, stable housing.
Ensuring over 600 children, ages 0-3, have the best start in life through early childhood programs and community outreach.
Our counselors, located in 40 schools, provide support for up to 1,338 students every year.
Providing safe, stable housing, crisis services, life skills training, and/or aftercare to over 230 homeless and foster youth every year.
75% of parents who attend our parenting programs report being more involved in their children's lives.
From some of our programs:
Provides 24/7 crisis support, and suicide prevention counseling and education to over 15,500 people annually.
This past year, our Crisis Center answered over 12,000 calls to our 24/7 Crisis Hotline.
Launched the first ever women's detox program in San Mateo County.
Distributes 150+ COVID-19 safety kits every month.
Provides trainings to 500+ community members annually.
StarVista's Pride Center conducted the first LGBTQ COVID Impact Report of San Mateo County, which gathered critical data to inform their work. With 500+ survey responses and 100 additional comments, this work helped the Pride Center better understand the needs in the community.
In the past year, StarVista's Child and Family Resource Center (CFRC) has provided more than 2,609 individual therapy sessions for children and families in the most vulnerable communities in San Mateo County.
Join us in honoring World Mental Health Day by doing one (or both!) of the following:
1. Display your StarVista Mental Health Matters yard sign or poster
If you did not order your sign in May, be sure to order it during our Mental Health Matters campaign in 2022!
2. Share the StarVista Mental Health Matters graphic on your social media using #MHMattersSV and #WorldMentalHealthDay. Don't forget to tag @StarVistaSMC! Click here to download.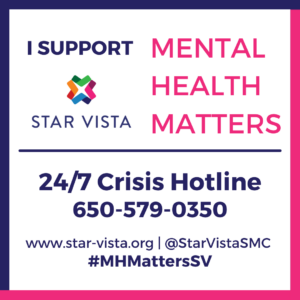 Check out StarVista's blog posts focusing on mental health and wellness. Topics include self-care, mental health tips, coping strategies, and more: https://star-vista.org/tag/mental-health/