Join us for StarVista's once-a-year fundraising event and help ignite change in the lives of individuals and families!
At StarVista, we believe in the potential of every person and that with the right support, change is possible. Whether struggling with substance abuse, thoughts of suicide, family violence, or homelessness, we help people of all ages and life stages navigate life's challenges so they can thrive, grow, and live the life they want.
We are making a real difference and we invite you to join us in changing lives.
Create your own personal fundraiser page to raise funds​ toward the event.
Become a Table Captain, ​host your "table page" ​and invite friends to join ​you at the event.​
If you already know a Table Captain, join their table.​
Thank you to our Sponsors:
To become a sponsor, please reach out to:
Lea M. Berhane
Pronouns: She/Her/Hers
Director of Fund Development & Marketing 
Cell/Text: 510.697.8992
For more information about the event, please reach out to:
Amanda Peters, Ph.D.
Pronouns: She/Her/Hers
Development Manager
Cell/Text: 650.544.4533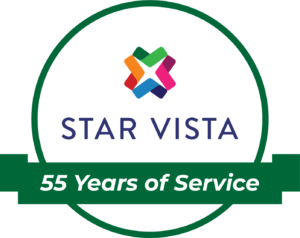 StarVista is celebrating 55 Years of Service in San Mateo County! Visit our 55th anniversary webpage to learn about the history of our agency. Click Here