StarVista's Holiday Wellness Toolkit
A collaboration between StarVista's Insights, Counseling Center, San Mateo County Pride Center, and Crisis Center programs. 
The holidays, no matter which ones you celebrate, if any at all, can be challenging for many reasons. Even anticipating the longer darker days can stir up anxiety or sadness. This toolkit is designed to help you prepare for or cope with any challenging times that may lie ahead, whether they be during times of isolation or when gathered with others. Throughout this campaign, we will share resources and ideas for where to go and what to do should you anticipate or need more support. Many of these ideas are relevant all year long and may spark other ways we can better care for ourselves and others.
For quick toolkit tips, be sure to follow StarVista on social media @StarVistaSMC, @SanMateoCrisis, and @SanMateoPride!
---

Stress Management Tips 
---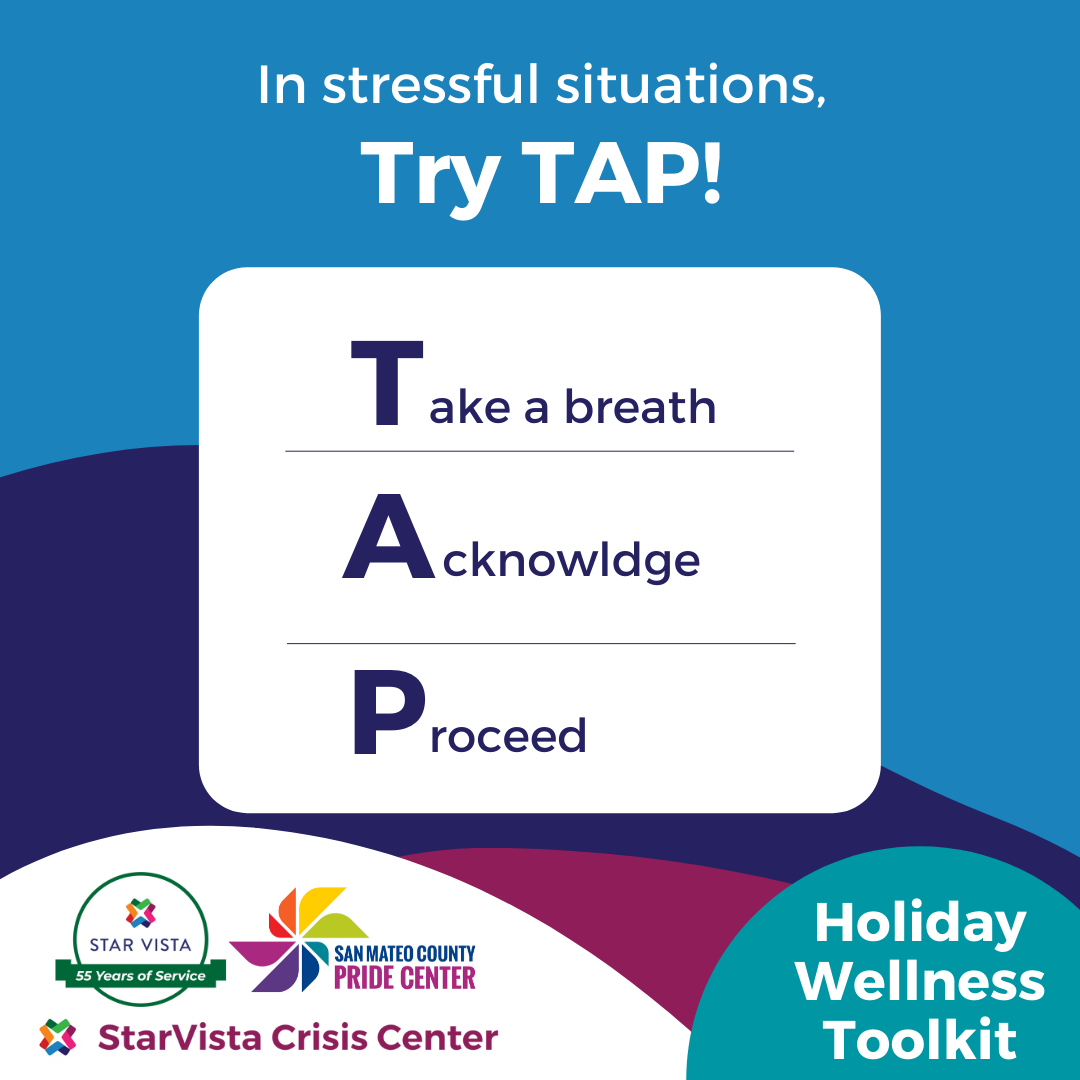 When you find you are facing a difficult situation or stress, try TAP!
TAP stands for Take a breath, Acknowledge, Proceed. TAP can be used in many situations; when one is becoming dysregulated, stressed, or facing a difficult situation.
As part of the 12-session Mindfulness-Based Substance Abuse Treatment (MBSAT) program developed by Dr. Sam Himelstein and taught here at StarVista's Insights program, youth learn to use this tool at appropriate times to promote self-awareness and good decision-making.
When you need that extra breath that can make all the difference, try TAP!
---
Focus on your Physical Health 
Yoga is great for calming the mind and reducing stress. There are free yoga apps you can download to your iPhone or Android. My favorite yoga app is Down Dog: Great Yoga Anywhere.
Going for walks in nature is a great stress reducer. Be mindful on the walk. Notice leaves on trees, how the air smells, the sound your footsteps are making, all the different shades of green. When a worrisome thought comes into your mind, imagine yourself releasing the thought and it floating up to the sky.
Deep breathing exercises – When we are stressed our heartrate and breathing increase. Rapid, shallow breathing is a stress response. You can do these exercises anywhere and nobody even needs to know you're doing them. A good technique is the 4-7-8 breathing technique. To do this you breathe in through your nose for a count of 4. Hold for a count of 7. Exhale by blowing out of your mouth for a count of 8. Do this 5 times.
Progressive muscle relaxation – To do this you can download an app or you can tighten and relax muscle groups in your body. Start at your head, then your neck, your shoulders, your back, your arms, your thighs, your legs and your feet. One by one tighten each muscle group for 4 seconds and then relax for 4 seconds.
It can be helpful to craft a written stress reduction plan. To do this you type up or write down a list of the steps you want to take when overwhelmed with stress. Put that list in two different places in your home. That way when you're overwhelmed you don't have to come up with a plan, your plan is already written down. If your #1 idea doesn't work you go on to #2, and then #3, etc. A sample might look like –
When I am overwhelmed I will:
Do 2 rounds of 4-7-8- breathing
Do progressive muscle relaxation once over body
Take a 15 minute mindful walk outside
Practice a yoga routine
Call Star Vista hotline – 650-579-0350
Of course our 24 hour hotline and also our text line are great resources to put on a plan. Along with family and friends who you can call and receive support from and their phone numbers.
Last, but not least, StarVista's Counseling Center can provide short term, goal-oriented mental health support to help people get through the holidays.
---

Managing Grief and Holiday Perfectionism 
---
Managing Grief During the Holidays
Experiences of grief can often feel magnified around the holidays. Traditional celebrations may highlight the absence of a loved one, or make changes in holiday events more apparent. Grief can also feel more present during life milestones, as we compare what could have been to the reality of now.
We have all probably heard of the Five Stages of Grief; a model created by Elizabeth Kübler-Ross; which are denial, anger, bargaining, depression, and acceptance. What we might not all know is that the stages are not linear. We may move back and forth through different stages, or even skip some, while processing our grief.
Be mindful this holiday season of how grief can show up in your life. As the pandemic continues to change how we may interact with the world, we may feel grief about losing our usual routines and celebrations, on top of personal losses. Some of us may also be feeling grief around missing out on certain life milestones, like weddings and graduations.
You may notice conflicting emotions during holiday events, such as both happiness and sadness. Make sure you allow yourself space to feel whatever you are feeling. It is not uncommon to feel multiple things at once, especially around grief or loss.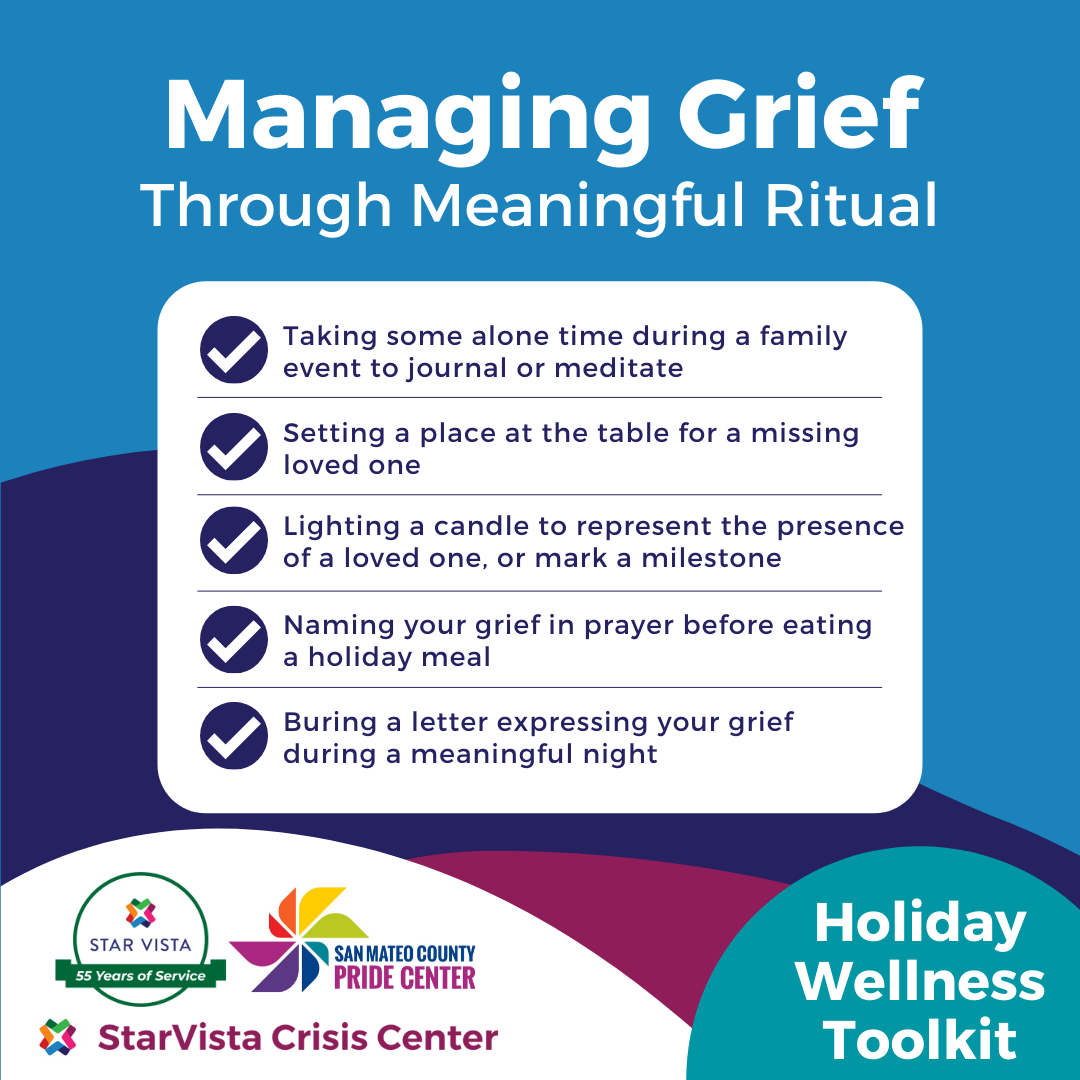 One way to incorporate our grief may be to create a meaningful ritual to acknowledge its presence during the holiday season. Some ideas can include:
Setting a place at the table for a missing loved one
Buring a letter expressing your grief during a meaningful night
Naming your grief in prayer before eating a holiday meal
Taking some alone time during a family event to journal or meditate
Lighting a candle to represent the spiritual presence of a loved one, or mark a milestone
Attending a religious service, in person or virtually, and asking for prayer around your grief
Planning a special event with family and/or friends to acknowledge your loss
If at any point you feel your emotions or grief become overwhelming, our crisis line workers are available 24/7 through StarVista's hotline to help support and de-escalate at 650-579-0350.
---
Holiday Perfectionism
The stress of the holidays can cause us to feel like we need to show up as perfect versions of ourselves. We need to host the perfect holiday events, meet relatives' expectations of life achievements, look perfectly put together, serve perfect holiday meals, or just feel like we have to perfectly balance things like child care, school, work, and other commitments with extra holiday tasks and events. We also might feel pressure around how we celebrate, with different social groups having different views or priorities with what events or safety measures to plan.
Psychologist Paul Hewitt of the University of British Colombia has found through 20 years of research that perfectionism "correlates with depression, anxiety, eating disorders and other mental health problems." This may or may not hold truth for you, but keep in mind that perfectionism can be a way to cope with anxiety or feelings of hopelessness.
The recent years have been stressful globally, and many events have been out of the common individual's control. This may lead to feeling an increasing internal pressure to present ourselves as put together and perfect. This in turn can take a psychological and physical toll.
Let's be mindful of how perfectionism may show up for us this holiday season, and build in some coping strategies to relieve pressure and support our mental and emotional wellness.
One strategy we might employ is to balance or shift responsibilities away from our holiday workload and making sure we have strong boundaries about what we will take on. Having multiple people responsible for an event or meal can reduce the feeling of needing to do everything perfectly by yourself.
This can look like:
Delegating out tasks that traditionally you held
Doing a potluck instead of having one or two people cook for a particular holiday
Deciding who will do what tasks ahead of time, such as cleaning and cooking
Assigning childcare before and during the holidays to those who will not be doing the bulk of event preparation
Deciding ahead of time what safety precautions you will take, and clearly communicating your boundaries
Planning breaks into holiday events for yourself
Another pressure we can face is other's judgments of our life achievements and choices. The holidays can bring this into focus through closer proximity to family or even feeling the absence of relationships. Coping with our emotional responses to other's judgments can look like being mindful of when we are feeling that way, having techniques to manage our emotions in the moment, and building up our self-esteem and self-worth outside of high-stress situations.
If you are struggling with feelings of holiday perfectionism and are having a hard time coping, our trained crisis line workers are ready to support you and talk through some coping strategies through StarVista's 24/7 crisis hotline at 650-579-0350. Learn more about the StarVista Crisis Center.
---

Prepping Ahead Tips 
---
Food: I have to eat? AGAIN?!
Sometimes we don't need to prepare for the big events but our daily lives. How many times do we ask ourselves what are we going to eat today? Take out the guess work for when you don't have the capacity to think about one more thing.
Keep a list of your favorite take out meals from your favorite places to eat!
Make a list of your go-to recipes of meals to make. Even better, include the grocery list of ingredients you will need.
Cook 1 or more big meals ahead of time. Portion them out (freeze some if necessary) so that you have food throughout the week – with variety!
If all else fails – SNACKS! Keep a variety of snacks on hand which include fruits, veggies, and proteins. In a pinch, protein shakes, ensures, and smoothies can provide nutrients when you don't have the energy for anything else.
---
Feeling the Funk?
If we know there will be hard times ahead, we can plan for them.
Create a list of feel-good movies, books, tv shows, or make a playlist that will help you "dance it out."
Make a list of activities that help you re-center. What helps you bring you back to you? Some ideas may include:
Going for a walk, hiking, reading, swimming, crafting, knitting, writing poetry, photography, or creating art of any kind
---
Back Pocket Guides:
Part of the holiday season typically involves family/community gatherings. Unfortunately for many of us, these events can trigger a lot of turmoil and anxiety for some of us who anticipate difficult conversations, unwelcome comments, or otherwise negative experiences.
Many of us face criticisms about our:
Body size
General appearance
Career choices/status
Relationship status
Face discrimination based on race, sex, sexuality, or gender identity – even from our own family members
It can be really hard to interrupt these comments, especially during such an intimate setting. Planning ahead, think of 3-5 ways you can interrupt or deflect unwelcome comments. These strategies can be written in ways that feel safe for you and specific for the setting you're about to attend. Keep these strategies in your back pocket (literally!), on your phone, or otherwise easily accessible, to review before you go to the event and to review periodically throughout just in case you need them. Sometimes just knowing you have them can be the comfort you need.
---
Appreciation Gifts to Yourself:
Taking the time to appreciate yourself is time worth spent. Consider creating an "Appreciation Box" of notes collected from loved ones. Whenever you are having a low moment, you can grab a note from the box to remind you about how wonderful you are. You can even add your own notes to yourself. If inclined, decorate the box and make it your own! Learn more about the San Mateo County Pride Center here.
---