Meet Jessica Lucero Perez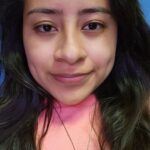 ---
Meet Jessica Lucero Perez, a health ambassador at StarVista's HAP-Y Program. Jessica discusses her experience with the HAP-Y program, her perspective on mental health, and future goals.
---
How did you discover StarVista's HAP-Y program?
My mother discovered StarVista's HAP-Y program and she felt it was a great opportunity for me.
Why did you join?
I joined because as soon as I got informed about the program I wanted to learn more about mental health. I struggled with my own mental health and taking this program has helped me understand myself better.
What does a typical meeting session at your program look like?
A typical meeting session starts by introducing ourselves and sharing one thing about us. Then we begin by talking about our day. We have guest speakers come and talk about different mental health struggles. We also got taught about different types of methods to help us deal with our daily mental health.
How do you prep before your next HAP-Y meeting session? What do you do after?
I usually prep by having a bottle of water next to me in the meeting to help me concentrate. Before the meeting starts I usually have my computer charged and something to take notes. After the meeting, I like to reflect on the topic we talked about. I also try to meditate for 10 minutes.
What do you look forward to the most at every meeting?
Since the program was through Zoom due to COVID, I was very excited to just have a conversation with people my age. It made me realize how important it is having someone to talk to even for a few minutes. It helped my mental health during COVID.
What are some of your favorite resources for mental health and wellness that you learned in the
program?
In the HAP-Y program they give you many different resources to help you and others. Meditation really does help by giving your brain a break. Practicing breathing techniques are important when you are having anxiety. I also really like writing all the "What ifs " questions that I get during my anxiety then I go over it and answer them after I calm down.
How has this program changed your perspective on mental health?
This program helped me understand different mental challenges. Now that I've taken the program I know there's lots of help to get better. No one is alone in this, we are all struggling with mental health. I always looked at mental health as a puzzle. I am always trying to figure out what I need in order to be okay. At the end of the day I know that I will make it through so if I can so can you.
What are your future goals in terms of supporting mental health?
My goal is to give more information to people who are struggling. To stop the stigma around mental health. Mental health means your struggling not that your crazy or dumb. I've started a conversation about it with my parents. They would always say, "Stop thinking so negative " when I was having an anxiety attack. Now they give me space and they know if you don't have something helpful to say then a hug is more helpful. We need to understand mental health better in order to accept help. Normalize going to a psychologist or any other help, we all need it.
---
Order your "Mental Health Matters" StarVista Yard Sign or Poster today!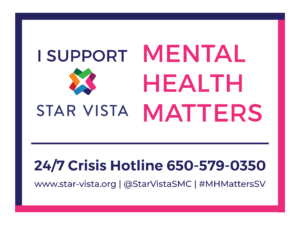 May is Mental Health Awareness Month! Help us spread the word about the essential mental health services we have been providing for 55 years by displaying a "Mental Health Matters" Yard Sign or Poster throughout the month.
Order Now