Gratitude 
This November, in the spirit of gratitude, we wanted to take a minute and thank all of our supporters, staff, donors, board, and volunteers. You help us every day in our mission to deliver high impact services through counseling, skill development, and crisis prevention to children, youth, adults, and families. Together, we are helping all ages and stages through life's challenges. Thank you!   
We strongly believe in helping individuals increase their mental wellness. One way of supporting one's mental wellness is through gratitude. Read on to learn more about how one can practice gratitude.  
What is Gratitude? 
Gratitude is the feeling or quality of being grateful; it is an emotion that expresses appreciation for what one has and returning kindness. 
One can experience gratitude anywhere, at any time. It is a feeling an individual cultivates when they have an appreciation for the things in their life. These things could include a job promotion, the birth of a child, the purchase of a new home, overcoming an addiction, making a new friend, or even getting a good grade on an exam. The meaning of these events and successes are determined by the individual. We all have our list of things we are grateful for and we can show our gratitude in many ways.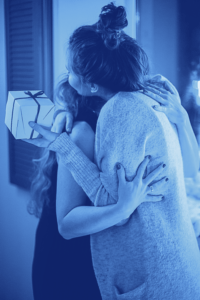 Things one could be grateful for:  
Family, friends, life, love, happiness, food, shelter, career, pets, technology, medical advancement, therapists, financial stability, mental wellness, diversity, kindness, community, school, nature. The list is endless! 
Possible ways to show gratitude:  
Send a thank you card to someone who does something kind for you, return a compliment with a smile, send flowers to a loved one, return a favor, donate to a charity, share what you are grateful for with a friend or loved one.
It is important to practice gratitude through actions, thoughts, and speech because it promotes positive feelings to overall improve your health and wellbeing. This can be important for individuals with mental health issues. It can be a way to find solace in a time of hopelessness and suffering.  
Unfortunately, gratitude may not come as easy to some as it does to others. There are individuals that struggle to cultivate gratitude because they feel it is out of their reach. Take some time to try to focus on all the things in your life you are and/or could be grateful for. You may find you are grateful for some of the things listed above.  
Try keeping a gratitude journal!
One method to cultivate gratitude is to keep a gratitude journal. Write down 2 or 3 things every day or every week you are grateful for. The act of writing what you are grateful for can improve your mental wellness and help you find positivity in life. It could also make a great addition to your self-care routine. You can download a gratitude journal at https://www.therapistaid.com/therapy-worksheet/gratitude-journal/emotions/none.  

StarVista is grateful for its amazing donors, clinicians, staff, interns, and volunteers whose contributions continue to help the youth, children, and families in our community reach their highest potential.