Who inspires you?

 
Women's History Month
March 2022
---
March is Women's History Month, a time to celebrate and honor the women in our lives that are making a positive impact on us and in our communities.
"The 2022 Women's History theme, "Providing Healing, Promoting Hope," is both a tribute to the ceaseless work of caregivers and frontline workers during this ongoing pandemic and also a recognition of the thousands of ways that women of all cultures have provided both healing and hope throughout history." Source
---
In celebration of Women's History Month, we invited all StarVista staff to share their role models with us as we celebrated women who inspire us every day. This included a colleague, friend, family member, or even a celebrity! 
We received a total of 9 responses! Staff responded with:
✨A role model in their life that inspires them and their work at StarVista and in the community.
✨The reason they look up to them.  
The following responses were then shared on
StarVista's social media platforms
to highlight who inspires our staff and our work in San Mateo County!
---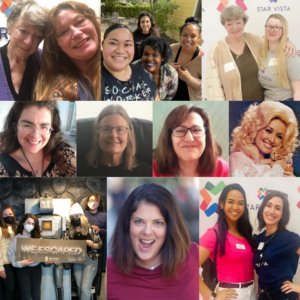 ---
"Clarise has dedicated her life to making the world a better place for the people of San Mateo County for SO MANY years. I can attest to the fact that she literally saved my life more than once! I was in the very first Women's Enrichment Center and that planted the seed for sobriety! My daughter is also a proud graduate of WEC and works at SSF City Hall, so actually, Clarise single-handedly saved my whole family! I am now a grandmother to 3 boys and 2 girls and one on the way!" -Kristina Anderson, Detox Counselor at StarVista's First Chance Sobering Station and Detox
"I love Dolly Parton because she has always lived authentically all with a sense of humor, style, intelligence, creativity, and generosity. I look up to Dolly because she has a close circle while exuding warmth and acceptance that makes everyone feel like they're her friend. She's genuine and doesn't forget where she's from and is humbled by the people that supported her along her journey. She's got a wicked sense of humor, doesn't take herself too seriously, has a unique sense of fashion and style, and is an artist in every sense of the word." -Marilyn Fernando, Marketing and Community Engagement Lead at the San Mateo County Pride Center
"My first professional social work job out of grad school landed me at a residential facility. While at times I felt over my head I took comfort from my supervisor Priscilla. Priscilla was a strong leader. She was smart, thoughtful, and knew how to make the residents, and us social workers, feel cared for in a unique way. One of the reasons I feel Priscilla was a role model for me was that she took great pride in ensuring that the four residential social workers were a cohesive team. I learned the power of a strong team, and strong leadership, from her. As I continue my journey as a social worker I will look back at the leadership and support Priscilla offered while we were working together and emulate the best parts of what she showed me. I am so grateful for the time we worked together and for all that I learned (and in turn will teach others) from her. Kudos to strong female role models!" -Verna Barrientos, LCSW – Mental Health Clinician and Intake Coordinator with the San Mateo County Pride Center
"My name is Frankie Sapp (he/him), Program Director, who is privileged to be a part of the San Mateo County Pride Center team. I was onboarded right before the start of the COVID-19 pandemic. Of course, this has made a tremendous impact on my role and my work with the center and with the community in San Mateo County. Many of the effects, as you'd imagine, are heightened stress, pressure, and workloads. However, there is far more unexpected beauty than I think anyone could have anticipated. Tanya Beat (she/her), Director of the LGBTQ Commission has been a central part in illustrating the community behind our Community Center. For this reason, and so many more, she truly inspires me. -Frankie Sapp, Program Director, with the San Mateo County Pride Center
"All of these ladies have significantly contributed to the driven, determined, enthusiastic spirit I have as a Grants Writer and team player at StarVista today. It is because of their kind supervisions, humble mentorship, and dedicated patience that Lauren and the YHS staff have had on me that I have a safe space to not only be myself but excel in everything I do– whether as a former direct service role or excelling as a writer to help our agency thrive. Thank you, Lauren, and the ladies at YHS who have molded me into being the dynamic team player I am today. Your kind hearts, mentorships, and leadership have truly set me up for success and longevity to continue serving our San Mateo County!" -Patricia Dalao, Grants Writer at StarVista
"Melanie has a gentle, yet effective way of encouraging me to reach my goals. Melanie is a recruiter for the Lawrence Livermore National Lab and has emotionally supported me through the ups and downs of navigating the politics of the work world. I'm proud to reveal Melanie is my daughter." -Janet Siegel, ATR, Associate MFT at StarVista's School-Based Program.
"I've always admired go-getters who are passionate about community mental health and I'm lucky enough to be working with a team of such individuals! Although I've only met Clarise in recent years, she has shown me how kindness can radiate throughout an ever-changing world. She brings joy to everyone she meets and I am very thankful to have had the pleasure of knowing her. Thank you for all that you do Clarise! See you soon for a cup of coffee." -Shayna Strauch, StarVista's Training Program Coordinator
"For women's history month, I wanted to highlight the incredible and trailblazing work being done by the rockstar women of the Crisis Center Leadership Team. When I joined this team 10 short months ago, I was in awe of the incredibly strong gals leading the next chapter for this Center. Over the past year, the Crisis Center has doubled in size with even more growth expected over the next three years. The women successfully at the forefront of this movement are not only incredibly talented but truly are three of the most supportive, empathic, intelligent, funny, and empowering women I know. It is rare to feel this at home and this inspired in the workplace, let alone have the opportunity to look up to and work alongside so many emerging female leaders in the field of crisis intervention and suicide prevention!" -Taylor Coutts, Program Coordinator at StarVista's Crisis Intervention and Suicide Prevention Hotline.
"Karen Jaffe is an amazing therapist, supervisor, colleague, mother, wife, friend." -Nancy Fang, Psy.D., StarVista's Counseling Center Program Director
---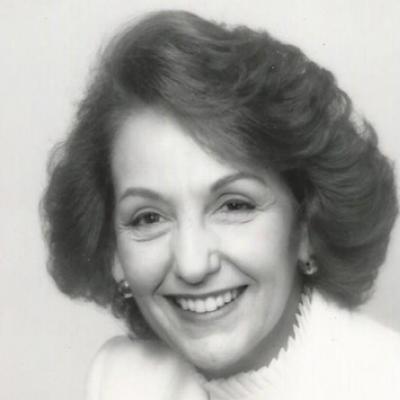 Did you know? The StarVista crisis hotline was founded in 1966 by suicide prevention pioneer, Charlotte Ross. It was the third crisis line founded in the state of California, with the goal of providing emergency assistance to people who were not in a medical crisis.
StarVista's suicide hotline is available 24 hours a day, 7 days a week: 650-579-0350. To learn more about the StarVista Crisis Center, please visit:

https://star-vista.org/programs/crisis-center/
---
Learn more about Women's History Month: