National Nonprofit Day
August 17, 2023
---
Life's most

persistent and urgent question is: "What are you doing for others?" – Martin Luther King
---
StarVista's History:
Our services were first known in San Mateo County in 1966 under the name of "Peninsula Suicide Prevention, Inc."– a small human services agency focused on local suicide prevention. Over the next 50+ years, that small agency grew into Youth and Family Enrichment Services, providing a wide range of services to San Mateo County, and adopted the name "StarVista" in 2011!
Celebrating 55 years of empowering individuals, inspiring hope, and strengthening communities in San Mateo County. Learn more.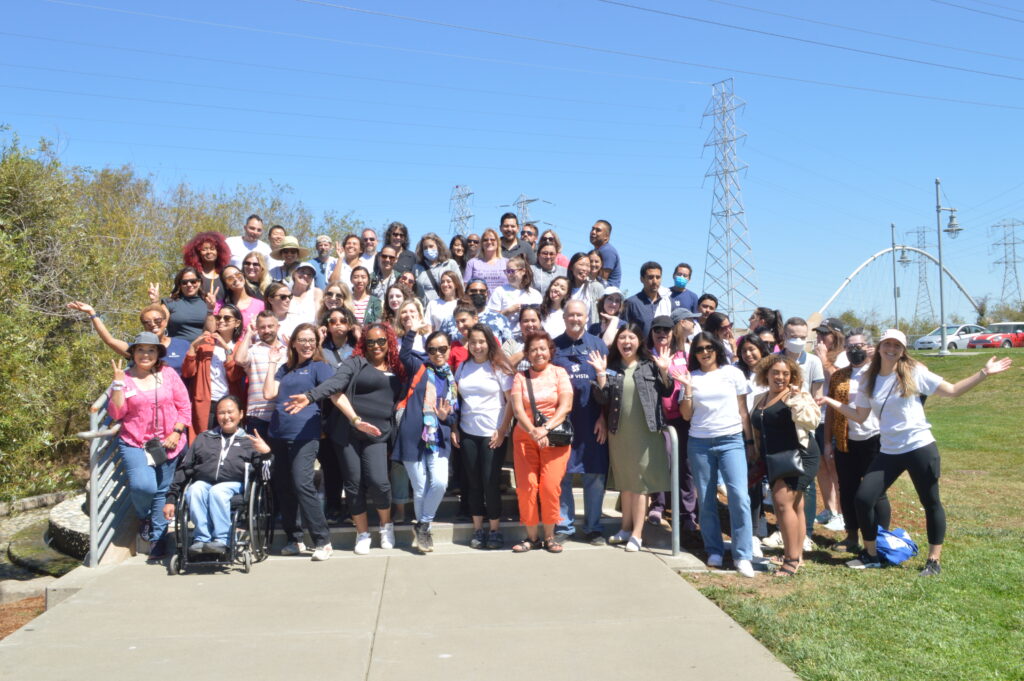 Our Mission
We deliver high-impact services through counseling, case management, skill development, and crisis prevention to children, youth, adults, and families. 
Our Vision
All children, youth, adults, and families receive quality services to support them in reaching their fullest potential.
Our Values
To serve our clients, supporters, staff, partners, and diverse community, we utilize a strength-based, holistic approach, guided by our commitment to diversity, equity, and inclusion.
---
Currently, we have four service departments including: School-Based and Clinical Services, Youth and Community Empowerment Services, Wellness and Recovery Se

rvices, and Crisis Services.

StarVista's

dedicated professional staff offer unparalleled prevention, early intervention, education, and counseling services to thousands of clients each year. Our innovative approach, clinical leadership, and collaborative

expertise

make

StarVista

a leader in the mental health

field.

*

 
---
Meet StarVista's Early Childhood Services Staff
StarVista's Early Childhood Services (ECS) provides a range of comprehensive supportive services to children aged 0-5 and the parents, caregivers and childcare providers who care for them. Our ECS programs are Early Childhood Community Team (ECCT), Early Childhood Mental Health Consultation (ECMHC), and Healthy Homes.
Through these services, we help families to meet immediate needs, decrease stressors, address the impacts of their past traumas and hardships, build supportive communities with one another, access vital mental health services, and pave the way for children and their families to create positive, healthy futures. In doing so, we are also helping families to break harmful cycles (e.g., poverty, trauma) that not only impact that family and the community but future generations to come.
---
Here are a couple of highlights from the past fiscal year…
San Mateo County Pride Center 
In Fiscal Year 2021-2022, The San Mateo County Pride Center trained 748 Community Members on topics like Sexual Orientation & Gender Identity (SOGI) 101, Trans 101, & Pronouns 101 Series 
Counseling Center 
In Fiscal Year 2021-2022, StarVista's Counseling Center provided 2,084 Hours of Counseling Services 
Crisis Center 
In Fiscal Year 2021-2022, StarVista's Crisis Center answered 13,441 Calls to our 24/7 Crisis Hotline and referred 69 of them to our Youth SOS Team 
School-Based Services 
In Fiscal Year 2021-2022, StarVista's School Based Services provided 9,956 Counseling, Crisis, & Check-In, and Group/Workshop Sessions to Students 
First Chance Program  
In Fiscal Year 2021-2022, StarVista's First Chance Sobering and Detox served 2,194 Clients 
Read StarVista's Annual Report for FY21-22
---
Join us on October 12th for Changing Lives, StarVista's once-a-year fundraising event celebrating our agency's accomplishments and community of supporters. 
Community Resources
Request StarVista Resources
StarVista community partners can request print resources for tabling events, schools, community centers, and more. Resources include StarVista brochures, StarVista Crisis Intervention and Suicide Prevention brochures and Crisis Line wallet cards, and San Mateo County Pride Center brochures. 
Download Program Flyers
Access all of StarVista's program flyers in English and Spanish on Google Drive 
Connect with us!
Connect with us on Social Media and stay up-to-date with StarVista! 
Share and tag us in your favorite posts @StarVistaSMC and #StarVistaSMC 
Subscribe to the StarVista Newsletter! Program news, CEO updates, events, and more delivered right to your inbox.