Introducing Benjamin Marks, LCSW, StarVista's new Department Director of Wellness and Recovery Services!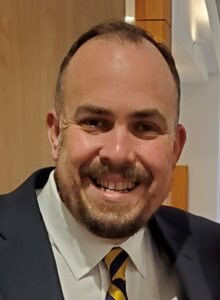 ---
Benjamin Marks, LCSW received his Master of Social Work in 2005 from New York University. For the past 17 years, his Social Work experience has spanned a variety of areas including: Community Mental Health in Baltimore City, Trauma/Surgery and Traumatic Brain Injury at the Walter Reed Military Medical Center, Washington DC, and Active-Duty Navy Social Work at the Naval Medical Center, San Diego. Since moving to the Peninsula, Mr. Marks has worked as a Supervisory Social Worker and Program Coordinator at the Palo Alto VA Medical Center and as the Manager for Social Services at Kaiser in Redwood City.
In his spare time, Ben enjoys playing guitar, running, hiking, and generally taking advantage of all the Bay Area has to offer. He's excited to join the StarVista team and support all the great work we do throughout San Mateo County!
---
You recently joined StarVista as Department Director of Wellness and Recovery Services. What drew you to the organization?
The important and vital work StarVista does throughout the County to support children, families and adults drew me to this organization. Specifically, the proactive way StarVista addresses the needs of our clients throughout the continuum of care to support their growth and development at any age. I wanted to join an organization who worked to enhance the lives and well-being of our community as a whole; and StarVista seemed to be a perfect fit.
StarVista values diversity, equity, and inclusion in the workplace and in mental health treatment. How important is DEI to you in both your job and in a mental health organization like StarVista?
In my opinion, DEI is integral to an organizations ability to grow, strengthen, and meet the needs of its clients and community. For me personally, DEI values are a lens for me to look through to make sure I join my team in effective and supportive collaboration and communication . The more we welcome diversity, equity, and inclusion in all we do, the more we can better understand and support the needs of everyone we serve.
What are you looking forward to the most in your new role?
I'm looking forward to supporting the programs within my department to continue all the great work they do at StarVista. I'm also looking forward to partnering with our local, state, and community stakeholders to enhance the support we provide for Mental Health and Substance Abuse care throughout San Mateo County.
Your department's programs work with clients who are recovering from substance use. What does the journey to recovery look like?
The road to recovery can be as varied and unique as the people who take it. The one common denominator; the key component to beginning the journey, I think, is being able to connect with the help and support needed to start. I feel very fortunate to support the programs here at StarVista that offer this help and provide a "no wrong door" approach to recovery.
A key component in mental wellness is practicing self-care. What are some ways you practice self-care in your life, and how important is it to you in the workplace?
Self-care is a fundamental daily practice to my work in this field. In my 17 years working in mental health, I've found that, like with many things in life, self-care is more about the journey than the destination. Exploring a combination of practices including meditation, exercise, mindfulness…and sometimes just listening to some really good music, has helped me find my center and maintain compassion and empathy throughout my career.
What are some of your hobbies?
I love to run and hike (basically anything that gets me out of the house and out into nature!). I also deeply enjoy music and play guitar semi-competently.
---