Introducing Michelle Woo, StarVista's new Director of Family and Community Services!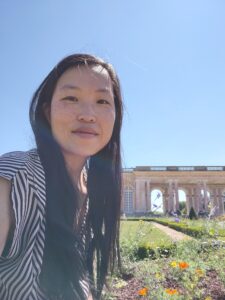 ---
Michelle

 

Woo

 has joined StarVista as our new Director of Family and Community Services. She will provide warm and collaborative leadership to our Pride Center, Early Childhood Services, Foster Youth Education & Enrichment Services, Health Ambassador Program for Youth, and the Youth Development Initiative.
Michelle

 uses she/they pronouns and is passionate about helping to build healthy, informed, connected, and resilient communities everywhere they go. 

Michelle

 has over 15 years of experience working in the areas of social and environmental justice, youth advocacy, prevention, and leadership development, and community building in the Pacific Northwest. After receiving a Master's degree in Public Affairs from the University of Washington, 

Michelle

 took a 3-year career break to work and study as a community midwife before returning to the non-profit field to work with girls and queer youth through the lens of preventing childhood trauma and abuse and promoting holistic healing and wellness.
In their spare time, 

Michelle

shared that they love going on adventures with their 3.5-year-old, trying out new cooking recipes, dancing, connecting with plants and animals, and living in perpetual gratitude.
---
You recently joined StarVista as The Director of Family and Community Services. What drew you to the organization?
From as early as I can remember, I have always been drawn to the idea of working for positive social change. Over the years, that love has taken me many different directions in life and as I contemplated which adventure I wanted to take on next, I realized that I wanted to work in an environment that could really benefit from the different skills, interests, and experience I have picked up along the way. To me, StarVista was the perfect fit because I knew it would allow me to show up to work each day as my full self. From the Pride Center to early childhood and youth services to housing and substance use prevention and treatment, I really admire how deep StarVista's understanding is around addressing community mental health and how far they're willing to go to meet the community's needs.
StarVista values diversity, equity, and inclusion in the workplace and in mental health treatment. How important is DEI to you in both your job and in a mental health organization like StarVista?
DEI work is a top priority in both my personal and professional life because I stand to be reminded each and everyday in both little and big ways that I would not be able to get where I am today without the help of so many leaders and advocates that came before me. Any person who has ever lived at the intersection of opposing, disparate identities knows the experience of what its like to have simultaneously existing realities and how destructive it can be, particularly to mental health. When communities are willing to acknowledge these differences of treatment and experiences by increasing opportunities for cross-cultural exchange, our minds are opened up to the best and the worst of what the world has to give, but more importantly, it opens our minds up to what is possible. We each stand to benefit and lose from the way our system is currently set up, but some to a much greater extent than others. It is essential that if we as StarVista consider ourselves to be leaders in the community we work in, that we proactively take corrective and preventive steps to address these injustices in meaningful ways.
What are you looking forward to the most in your new role?
I have really enjoyed seeing the impact StarVista's programs have had in the community and am excited about how I can best support its work, whether that's through lifting up staff, strengthening long-standing partnerships, or finding new opportunities for innovation and collaboration. I consider myself a strategic thinker and am looking forward to being a part of such a talented team who is passionate about the work, especially in regards to how to thoughtfully actualize StarVista's mission.
What are your thoughts/concerns regarding disparities in mental health services for youth and families?
I come from a non-clinical background, but have enough personal and professional experience to know how essential it is to have a broad range of programs and services to meet the unique needs of each population within a community. In my ideal world, our community would have overlapping structural supports that support stigma awareness and education, individual and group therapy, community connections, and strength-based leadership opportunities at every level of the socio-ecological sphere that are culturally, financially, and linguistically accessible.
Your role involves overseeing our San Mateo County Pride Center program, which is celebrating its 5th anniversary this June. In your experience, what barriers exist for LGBTQIA+ individuals who need mental health and other supportive services?
I think one of the main barriers for supporting the LGBTQIA+ is the lack of awareness of the diversity of needs within this specialized population. Many people assume that things have gotten better for the LGBTQIA+ population due to greater visibility on the societal level, but the reality is that many of these wins have only benefitted a small portion of the community. While the LGBTIQ+ community as a whole continues to face structural discriminations, these discriminations differ depending on which part of the LGBTQIA+ community you belong to and by geographical location, spanning everything from access to comprehensive sexual education in schools, healthcare services, and sometimes just even leaving the house. The Trans and gender expansive community in particular face greater social and health challenges depending on how much you're able to "pass" as a cisgender individual or whether culturally accessible health providers are available in your area, while the bisexual and pansexual community face greater mental health challenges due to the stress of never feeling a part of any community.
The LGBTQIA+ community as a whole, especially those who are also from the BIPOC community, also experiences a higher level of distrust of systems and services which makes it more difficult to get them connected to the support they need and understandably so due to the trauma and harm that the community has experienced historically. Although we still have a long way to go, adding BIPOC representation on the Progressive Pride Flag is a start for making these disparities more visible. All that being said, I know it has been a huge undertaking for all those involved with getting the Pride Center off the ground and for them to get to a 5 year mark is an accomplishment that I don't think can be overappreciated. I am so proud to be able to be a part of the Pride Center's work and am excited to get to help address some of the challenges to this very under-resourced community.
What are some of your hobbies? 
I wish I had a more exciting answer for this question, but to be honest, my hobbies are pretty limited to what my 3 year old finds agreeable these days but whenever possible, we like to go out on nature walks and animal viewing expeditions, and just experimenting with engaging and soul-nourishing activities in general! When I do have free time, I like to catch up on movies, reading, and music.
---