Introducing Shareen Leland, StarVista's new Chief Clinical Officer!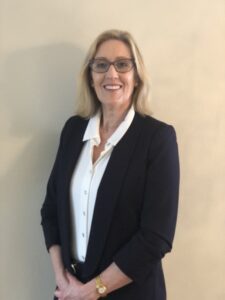 ---
We are excited to welcome our Chief Clinical Officer, Shareen Leland!
She will provide highly collaborative and compassionate leadership and will work in close partnership with our Department Directors.
Shareen is a Licensed Marriage and Family Therapist and uses she/her pronouns. She has 28 years of experience developing and managing behavioral health care programs and organizations. Shareen was trained as a family therapist and in the early 1990's worked for Pyramid Alternatives, providing school-based counseling. She has spent much of her career working with trauma and substance use disorders and is dedicated to supporting treatment that is individualized, wholistic and strength-based. Shareen brings a strong commitment to collaborative work environments and compassionate clinical care.
Shareen started practicing Ashtanga yoga three years ago yet still finds the most difficult pose is "getting on the mat." She loves to hike, travel, spend time with family and friends and do anything in or near water.
---
You recently joined StarVista as Chief Clinical Officer. What drew you to the organization?
I was drawn to StarVista because I am committed to supporting behavioral health care organizations that are diverse, inclusive and collaborative; these are all values that StarVista shares. Additionally, my treatment philosophy is fully aligned with StarVista's focus on strength-based and trauma-informed care. Although I have only been here a few months, I have seen the dedication the programs and staff have to providing the highest quality of care to our clients and the community and I am thrilled to be a part of this team!
You were a part of Pyramid Alternatives, which is an organization StarVista merged with in 2017. How has StarVista evolved as an agency since then?
After completing my graduate degree, I worked for Pyramid Alternatives, providing school-based counseling in the Daly City schools. In the 1990's, it was difficult to find all the resources and care that people needed. It is reassuring to see that it has changed. StarVista and San Mateo County now have a wide range of programs and services to meet the needs of the community.  
StarVista values diversity, equity, and inclusion in the workplace and in mental health treatment. How important is DEI to you in both your job and in a mental health organization like StarVista?  
Diversity, equity and inclusion are very important to me. I have worked to understand and address DEI issues within myself as well as the organizations I have been involved with, but the work can never end. We are all better and stronger when there are more voices and perspectives involved in decision making. Clients receive better treatment when they are fully met and understood, often by someone with a shared experience. Organizations, like StarVista, that prioritize diversity, equity and inclusion must continually work to bring forward and promote all voices so that we can best support our staff, community and clients.  
The Chief Clinical Officer is a new position here at StarVista. What are you looking forward to the most in your new role?  
I am excited about supporting the growth and stability of StarVista. This is a wonderful organization; the teams are deeply passionate about their work and the commitment to high-quality care is very evident.  My biggest hope is to support what is already here and provide resources so our teams can continue building from a solid foundation.
Given your experience working with individuals with trauma and substance use disorders, what kinds of equity gaps have you seen in treatment accessibility and awareness in communities?  
I have been in the field long enough to watch it grow and change. Although there has been a significant increase in community awareness of both trauma and substance use disorders, there has not been as much movement in access to care. For both issues, people often do not receive the length, type and kind of care they need to heal and recover. Additionally, care is not equitable. People with more resources have more choice of providers and treatment, not to mention the time and resources to access care. It is heartening to see the depth of understanding about trauma and trauma-informed SUD (substance use disorder) care at StarVista. It is my hope that this awareness has an impact on our clients and communities as well as broadens the perspective in the larger treatment world.
What do you like to do outside of work?  
I have a regular yoga practice that is an important part of my self-care. Additionally, I love to hike and travel and if I can hike while traveling, all the better! 
---