9th Annual San Mateo County Pride Celebration

 
San Mateo County is hosting its 9th Annual Pride Celebration from June 6 – 12! All events are virtual. There will be "live entertainment, book talks, workshops, and more!" 
Visit their website for more details, dates, and signature events! 
SMC Pride 2021 Calendar by Kristel Bugayong
San Mateo County Pride Center

 
The San Mateo County Pride Center, a StarVista program, was born of the struggles and triumphs of the LGBTQ+ community over the years and stands for equity, inclusion, dignity, self-determination, and justice. Over a decade in the making, the Pride Center is the first ever LGBTQ+ community center in San Mateo County. Whether seeking behavioral health services or gathering in solidarity with others to share stories, build relationships, learn, grow, create, and heal together, LGBTQ+ individuals and communities throughout the Peninsula finally have a space to call their own!
The San Mateo County Pride Center offers a number of community resources and services year-round, including trainings and workshops. Learn more here
Pride Flag Ceremonies   
Watch the San Mateo County Pride Center's program director, Francisco Sapp, join San Mateo County on June 1 at 10am in its first raising of the progressive pride flag!
Resources 
Pride Month Origin Story
Pride Flag Origin Story (Gilbert Baker)
Pride Month Timeline
How the Stonewall Riots Sparked a Movement
SF LGBTQ+ Heritage Guide
Range of Gender Identities 
Practicing Cultural Humility: Using Gender Pronouns
Sex Assigned at Birth and Gender Identity: What is the difference?
What is Sexual Orientation?
QTBIOPIC Mental Health and Wellbeing
CDC LGBT Health Youth Resources
APA LGBTQ Sexual Orientation
Events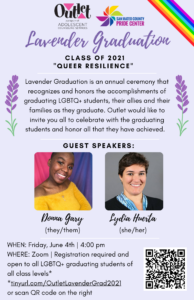 Lavender Graduation on June 4th at 4pm:
Lavender Graduation is an annual ceremony that recognizes and honors the accomplishments of graduating LGBTQ+ students, their allies, and their families as they graduate. Outlet would like to invite you all to celebrate with the graduating students and honor all that they have achieved. Any LGBTQ+ student graduating in any way is welcome to be celebrated at this event. Register Here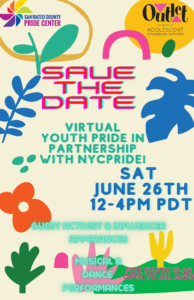 NYC Pride for Youth on June 26th from 12-4pm:
Outlet is excited to partner with NYC Pride for Youth Pride: a celebration of and for LGBTQIA+ and ally teens, as a virtual gathering in 2021. On Saturday, June 26 from 12-4, young people ages 13-24 are invited to celebrate NYC Pride with Outlet and their friends through musical performances, LGBTQIA+ center spotlights, DJ's, and a special ballroom segment. For any questions about this event, please reach out to: outletprogram@acs-teens.org.
San Francisco Pride – Pride Night at Oracle Park
9th Annual San Mateo County Pride Celebration
Activities 
Rainbow Recipes to Celebrate Gay Pride
Ultimate Book List for Pride Month 
PBS LGBT Pride Month Specials
LGBTQ on Hulu 
Celebrate Pride Month on Netflix
10 Queer Artists to Listen to this Pride Month
We will continue to update this page with the latest resources and events all June. If you would like to share a community resource or event, please send it to marketing@star-vista.org.