National Suicide Prevention Month
September 2021
---
The StarVista Crisis Center
Providing mental health crisis services in San Mateo County for more than 55 years.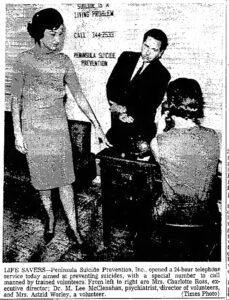 Founded in 1966, the Crisis Intervention and Suicide Prevention Center was the first program of the organization known today as StarVista. As one of the first crisis centers in California, the StarVista Crisis Center has been dedicated to crisis intervention and suicide prevention for over half a century, offering free services to youth and adults of San Mateo County.
This past year…
StarVista's 24/7 Crisis Hotline answered over 12,000 calls.
StarVista's Crisis Center performed 151 free mental health presentations at schools and in the community throughout San Mateo County, reaching over 2,800 youth and adults.
24/7 Crisis Hotline (All Ages): 650-579-0350
For people who are feeling depressed, suicidal – or who just want to talk to someone about problems they're facing – StarVista's 24/7 hotline 650-579-0350 offers a safe and anonymous place for people to explore feelings, concerns, vent frustrations, clarify problems and get referrals.
---
To learn more about Suicide Prevention, read our past blogs from StarVista's Crisis Center staff:
---
Website
StarVista's Crisis Center's website www.sanmateocrisis.org provides a dedicated space to share program services, updates, resources, and more. The website provides information on mental health and local community resources 24 hours a day.
Teen Crisis Services
StarVista's Teen Crisis Services include an online teen chat and text line. The online teen chat is a free, peer-to-peer service that can be accessed on www.sanmateocrisis.org (previously onyourmind.net). The teen text line, a new service being introduced this year, is a free, peer-to-peer service that can be accessed by texting 650-747-6463. Teen Crisis Services operate Monday-Thursday 4:30-9:30pm PST.
Both services offer teens the opportunity to chat anonymously with trained youth peer counselors under Crisis Center staff supervision about various topics. While mainly focused on crisis intervention and suicide prevention, teens can also talk about school stress, relationship issues, and mental health challenges.
Clinical Services
Schools may request additional assistance with suicidal assessments or crisis intervention by calling the crisis hotline at 650-579-0350. Interventions are available for free of cost to schools in San Mateo County. We also provide short-term therapy services during or after a crisis occurs. In addition, we give assistance for assessing immediate suicidal crisis.
The StarVista Crisis Center is accredited by the American Association of Suicidology and belongs to the Suicide Prevention Lifeline national network of crisis centers.
Training and Volunteer Opportunities with StarVista
StarVista's HAP-Y program seeks to train youth ages 16-24 to become Health Ambassadors. The training covers common challenges in mental wellness, signs and risks of suicide, suicide prevention, and how to access mental health services. Trained Health Ambassadors become community agents who help raise awareness and help increase access to behavioral health services through information sharing and/or providing referrals when appropriate.
The StarVista Crisis Center relies on our passionate and dedicated volunteers to help deliver crisis services like the 24/7 hotline, the teen chat, and the teen text line. Volunteers are required to attend over 50 hours of training in crisis prevention, suicide assessment, mental health, and other related topics.
Discover Additional Resources:
https://sanmateocrisis.org/resource-directory
Check Out SMC Events:
Music and Poetry for World Suicide Prevention Day
2021 SPM Calendar of Events (smchealth.org)
https://www.smchealth.org/post/suicide-prevention-month
https://www.smchealth.org/suicide-prevention