Introducing Dr. Daryl Tilghman, StarVista's new Interim Department Director of Youth Empowerment Services!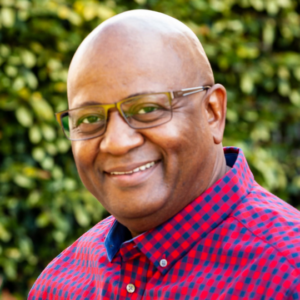 Daryl brings a wealth of leadership experience and clinical expertise with him from his years of holding various managerial and clinical roles. Daryl's experience in the mental health field has included overseeing inpatient crisis residential facilities throughout the Bay Area, training and developing of mental health clinicians, providing client and family support, navigating through difficult case management issues, and providing services to clients in underserved communities. Daryl enjoys lecturing, research, interpreting psychodiagnostic testing, and clinical report writing.
In Celebration of Black History Month, we interviewed Daryl about his experience as an African American in the mental health field, his passion for empowering underserved communities using psychoeducation, and pointing them to resources that will enhance both their mental and physical health and well-being.; all of which inspires the transformative work he does in the community.
You recently joined StarVista as The Interim Department Director of Youth Empowerment Services. What drew you to the organization?
I was searching for an agency that had a proven track record of providing a full scope of behavioral health and case management services to the local community and surrounding areas – and discovered Star Vista. An agency that, over the past 55 years, has established itself as one of the Bay Area's most respected agencies of its kind. Joining a team of passionate, culturally sensitive, trauma-informed professionals were just a few of the reasons I decided to join the Star Vista team!
StarVista values diversity in the workplace and in mental health treatment. How important is diversity to you in both your job and in a mental health organization like StarVista?
One of the measures of a progressive agency is found in its willingness to embrace diversity, equity, and inclusion, and Star Vista is such an agency. Star Vista has whole-heartedly embraced these initiatives and seeks to function as an agency that respects, accepts, and celebrates diversity among its staff and clients – regardless of race, gender, sexual orientation, religion, culture, ethnicity, or national origin. Star Vista strives to make adherence to diversity, equity, and inclusion – the norm, in the workplace and beyond.
What does Youth Empowerment mean to you?
Youth empowerment refers to the process, by which our youth and young adult clients are encouraged to take charge of their lives through accessing their strengths, then using those strengths to take action towards improving the quality of their lives. Our programs at Star Vista, provide a host of supportive services and resources designed to equip young people to eventually live independently, and when possible, outside of the mental health system.
What are you looking forward to the most in your new role with Star Vista?
Making a difference. Using my learned experiences to enhance the breadth and depth of the services Star Vista is currently providing, then adding/expanding those services towards maximizing their effectiveness in the lives of the clients we serve. 
What are your thoughts/concerns regarding health disparities in the African American community?
The Health disparities in the African American community are numerous and well-documented. My greater concern is the lack of resources provided to address these disparities, and an ongoing State and Federal commitment to working towards a permanent solution to these disparities.
Black History Month is in February. Are there any historical African American figures that you admire or that have made an impact on your life's work?
Since my childhood, I have been influenced by the life of the Rev, Dr. Martin Luther King, Jr. As I reflect upon his life, I am drawn to, what I can only describe as, the "epitome of purpose." A man who, in his early years, identified his purpose in the world- and walked it out with courage and commitment.
I am often reminded of one of my favorite quotes by Dr. King:
"An individual has not started living until he can rise above the narrow confines of his individualistic concerns to the broader concerns of all humanity."