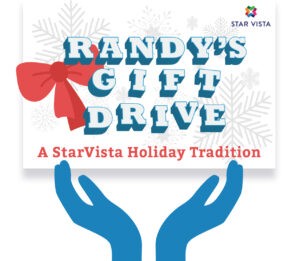 Every year, StarVista holds its Gift Drive for clients and their families. Through this year's holiday drive, we honored our beloved, late colleague, Durand "Randy" Clark Yano, who launched StarVista's first-ever Holiday Gift Drive, now a favorite tradition amongst staff and clients.
In the early days of the gift drive, Randy carried around paper and pen, as he made his rounds, taking gift requests and asking colleagues if they wanted to volunteer or donate. In those first years, he connected dozens of kids with gifts from staff and a handful of outside donors he knew. Randy paid attention to every small detail and took the time to personally handwrite a gift tag for each and every present.
Driven by Randy's compassion, the StarVista gift drive has steadily grown over the last ten years. Randy always made sure the donations kept coming and that all the volunteers had what they needed to make it happen. Whenever it looked like StarVista might not have enough donations to help meet the need, Randy would personally reach out to friends and family to close the gap.
In 2019, we are delighted to share that over 200 of our clients and their families received a special gift this holiday season! 
We want to thank our amazing Gift Drive supporters for their donations of toys and gift cards. We were so humbled by the outpouring of generosity. We know Randy would be proud to see his legacy of service and giving continue!
A very special thank you to our Gift Drive organizers and all of the volunteers who helped deliver and arrange all the packages!