Introducing Lea Berhane, 

StarVista's

new Director of Fund Development & Marketing

!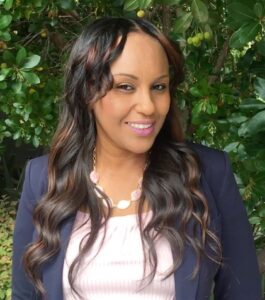 Lea brings positive energy and excitement with her from her previous nonprofit work. Her experience in leadership, project management, and relationship-building make her an excellent addition to our team, and we couldn't be happier to have her with us
In honor of International Women's Day on March 8, we interviewed Lea about her experience as a woman in the workplace, support of gender equality, and advice for young women who aspire to be successful in their careers. Here is what she shared:
You recently joined StarVista as The Director of Fund Development & Marketing. What drew you to the organization?
The mission. My family and I became immigrants looking for permanent residency overnight. We were in Sunnyvale, CA for vacation from Ethiopia when we learned that we could not return to our home due to political unrest and the civil war that was taking place. I was 8 or 9 years old at the time. An organization like StarVista could have made a profound difference in my family's life. Having access to counselors at school to assist with our transition would have been great. Also, the support that parents receive from StarVista in learning how to navigate the needs of children and support their growth would have been extremely useful. 
StarVista values diversity in the workplace and in mental health treatment. How important is diversity to you in both your job and in a mental health organization like StarVista?
Diversity means many things to me: gender, race, religion, sexual orientation, age, culture, socioeconomic background, etc. Diversity is incredibly important to me in my job. To be an effective manager, it is important to be aware and intentional about being inclusive. I believe that bringing together people from various backgrounds with different life experiences can generate diverse ideas and perspectives while increasing productivity and creativity. 
As a Development and Marketing Director, I strongly believe in valuing our donors equally, irrespective of donor level. Stewardship is critical in doing Development work and it is important to understand that whether a donation is $5 or $500,000, all donors are valuable. As Marketing Director, I feel it is very important that our content does not tokenize anyone. It is also important that the diversity of the participants we serve is illustrated. At the core, participants must be valued, honored, respected, and protected while engaging in our marketing efforts. 
In a mental health organization like StarVista it is critical that we value diversity in the workplace. It is important that we reflect the participants and communities that we work with and work in. Some of the ways this can show up is race, ethnicity, age, gender identity, language, disability, sexual orientation, where staff members live; all of these things contribute to a strong workforce that can relate to the community it serves.
Being a woman and immigrant from Ethiopia, what are some major challenges you have faced in your career and your life?
I am an Eritrean, I am an African American Woman, I am an immigrant, I am a mother of three teenagers… I have seen challenges show up in different ways. In my career, my biggest challenge as a woman was juggling being a new mother and a thriving career. The other challenge in my career is that, as a woman, I feel like I am held to higher work performance standards. There is an additional layer of holding myself to a higher standard to separate me from any racial bias anyone may have of me as an employee. 
One of the major challenges I have faced in my life as a woman is achieving a work-life balance. Wanting it all: a career, a great marriage, capacity to provide at the level I want for my family, time for my kids, time for myself, time for my siblings and parents, time for my communities, time for volunteer work and time to explore new things. Unlearning all the "how to be a good woman" ideas that were modeled to me growing up. 
What advice would you give to young women who are just beginning their careers? 
Greet everyone from the parking attendant to the CEO, always do your homework, be accountable, make eye contact, be resilient, be confident, be yourself, ask questions, make mistakes, own your faults, be punctual, always plan your next week at the end of the week.
International Women's Day is March 8 and this year's theme is #EachforEqual. How would you support gender equality in your plans for StarVista?
I am invested in making sure my staff can access and enjoy the same rewards, resources, and opportunities regardless of gender. I am also invested in providing equal pay for work of equal or comparable value. I also think it is important to constantly, re-evaluate job specifications, check for and remove the gender pay gap (and be transparent about it), make work/life balance a priority for our employees and also make mentors available to everyone.
Lastly, is there a special person you would like to recognize in honor of International Women's Day? 
I have to say this was tough. Oprah came to mind, Michelle Obama came to mind. But there is a little girl's picture that always inspires me every single time I see it. It's the picture of Ruby Bridges going to school on her first day. She represented the confidence, courage and will every woman should have walking into any room, meeting or place. Own your space, own your moment. "I am" are the single most powerful words in the world. Write your own story.