In a small room in the Fair Oaks Community Center, fathers sit proudly with their children around a table of food. Kids eat pizza, then leave the table to draw pictures and play games. Fathers laugh back and forth, joking both in English and Spanish.
This is the scene of a Fathers Group Graduation, an important piece of StarVista's Healthy Homes program, which serves families with children ages 0-5. For 8 weeks, these fathers have met in this same room, sharing stories and discussing what it means to be a father. The rules they follow: no judging others' opinions, speak only for yourself, have a good sense of humor, and always show respect. For StarVista staff member, Moises Lopez, this professional scene was inspired by a personal one.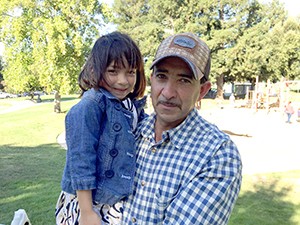 The oldest of three, Moises immigrated with his parents at a young age from Mexico to Redwood City, California. For the Lopez family, Redwood City was a culture shock. Not many Latinos lived in the community at that time, and it lacked the diversity the family was accustomed to in Mexico. The change was a struggle, particularly, Moises remembers, for his father. Over time, the stresses weighed more and more on his dad, and he turned increasingly to alcohol as a means of escape. Over the next 15 years, Moises' father was in and out of the home. Moises yearned for a close relationship with his dad and didn't understand why he wasn't around.
It wasn't until Moises began working as a Family Partner in StarVista's Healthy Homes program that he began to understand the many challenges his dad had faced as a bicultural Latino in the Bay Area. Building a new life for his children in the United States had meant trying to retain the family's Mexican culture, values, and heritage, despite the many external factors that had interfered. Motivated by his own family story, Moises now works everyday to provide an opportunity for fathers and kids to develop the deep connection he had craved as a child.
Building deep relationships between fathers and their children was the shared goal when First 5 San Mateo awarded StarVista funding for fatherhood engagement in 2017. "Most community services out there are geared towards moms or kids," Moises explains. "There's a huge lack of services to support fathers and an immense need." When Moises and his colleague, Mario Costello, first put the word out to their StarVista colleagues about the new Fathers Group, they were looking for any dad who wanted support, but they also had a keen eye out for fathers who were disengaged in the home or who were a repeated source of stress or fear for their spouses and children. Mosies and Mario also inquired about children who were expressing behavioral issues, as this is often a sign of an absentee father. "We were looking for dads who had never been taught how to be dads, how to be husbands, spouses, or partners," Moises explains. "I would call them and invite them to be part of our Fathers Group."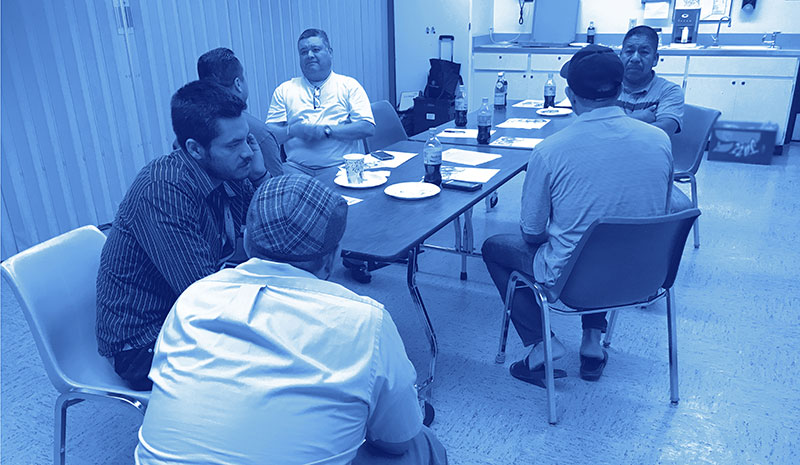 It was an uphill battle to start: 5 out of every 6 fathers declined Moises's invitation. Still, over time, the Fathers Group grew and within a year, the group swelled from just one dad to 12, the program maximum. To best serve the communities they were recruiting from, Moises and Mario decided to hold the first group in Spanish, the native language of most of their clients. They put together an eight-week curriculum focusing on fatherhood in all its forms. "We would ask, 'What are the challenges of being a new dad, a single dad, an immigrant dad, a divorced dad?' And we would ask our participants what they were struggling with, what barriers they faced, and then make space to discuss those barriers and issues."
"I've seen firsthand how so many factors are influencing our dads, including immigration stresses and a lack of resources to support fathers. All of these things led to alcoholism in my dad, and it doesn't have to be like that. We can connect these families to resources like food distribution, employment, and education." Having services available for free, taught in a client's primary language, and easily accessible within the community, reduces barriers for families to get help.
The group recently took on the topic of domestic violence. The dads watched a video that portrayed a fight between husband and wife while their baby sat in his crib nearby. The video flashed forward: the baby was now a teenager and was the family member most affected by the unstable home life he had experienced as an infant. He was experiencing frequent tantrums, breakdowns, and problems in school. When the video ended, one dad began crying. "This is what happened when I grew up and what I'm trying to prevent in my home," he said, "but I'm doing the same thing." Allowing dads a safe space to reflect on their own experiences gives them a better picture of how they want to raise their own children, and how they can become the dads they want to be. It also provides them access to counselors to address immediate needs and crises, like the ones this father was experiencing in his home.
The link between how a father grew up and how he parents his child, is strongly related to home life and culture. "It's culturally not acceptable for a Latino boy to cry, show feelings, or speak back about how they were hurt. They're supposed to be quiet, speak formally to parents, to be submissive," Moises says, "In this group, fathers are able to be vulnerable enough to say, 'Ok, that's how I was raised, but if I want my child to feel he is loved, he has to be able to share his emotions with me,' and that's a big step for a lot of our dads." "I never had a dad to tell me how to father," one dad shares, "now I'm learning all these things: how to speak to my child, how to care for them, how to be a loving father, how by playing with my child, I'm teaching them."
"As family partners, we're a voice for underserved families," says Moises. "These fathers don't have any other space that asks them, 'Hey, what's going on in your life right now?' That's what we provide."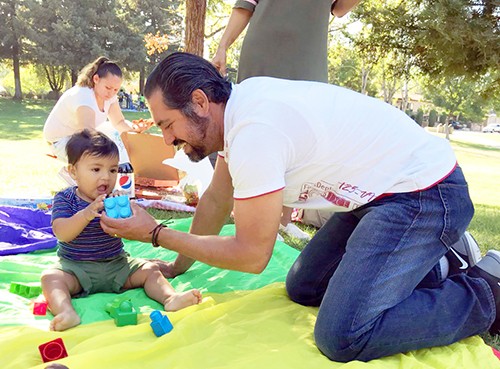 At the end of the 8 week curriculum, the fathers return to the Fair Oaks Community Center with their families. Each father stands up in turn to shake Moises' hand and proudly accept his Healthy Homes Fathers Group diploma. Excited children take a picture with their dad and his new degree. The smiling faces of fathers, partners, and children show, more than words the deep, rewarding impact this program has on families.
One day, with additional funding, Moises hopes to provide dinner and childcare for his fathers, and rewards and incentives for their completion of the program. He hopes to expand the Fathers Group geographically, delving into the pressing concerns of dads all over San Mateo County. For now, Moises and Mario continue to support the dads currently enrolled in the program and are also actively recruiting new dads to the program.
To learn more about Healthy Homes and the Fathers Group, visit www.star-vista.org/programs or call (650) 591-9623.