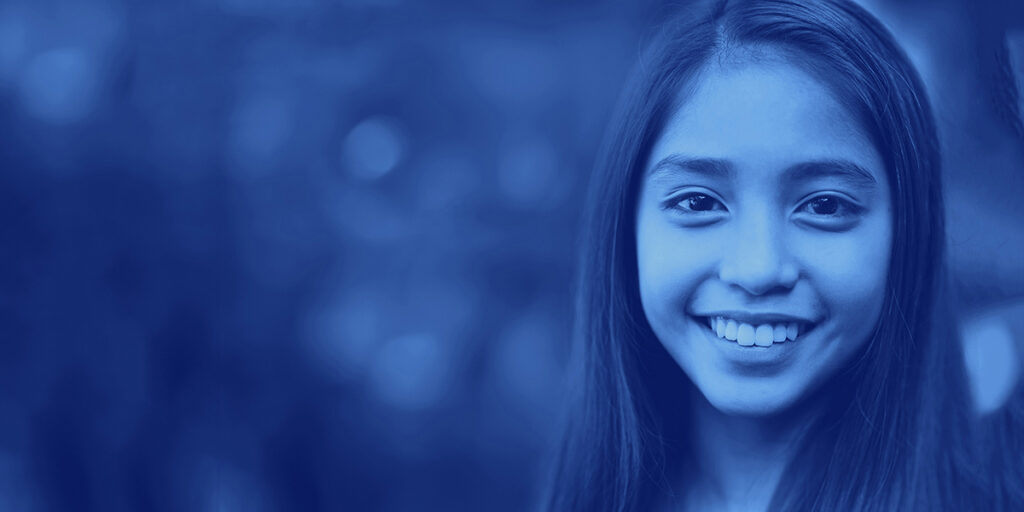 Every year, StarVista provides on-campus counseling, crisis intervention, and support services to more than a thousand students throughout San Mateo County.
We spoke with Program Director, Dr. Hazel Benigno about the incredible growth of our School-Based program and what it means for local school communities. Read on to learn more.
Q. Tell me a little bit about the School-Based Counseling program?
A. StarVista provides mental health services for students in 40 elementary, middle, and high schools throughout San Mateo County. Services include assessment, crisis intervention, individual and group therapy, family therapy, and consultation with parents, teachers, and other school staff. The goal of this program is to help students improve aspects of their lives, leading to enhanced school performance and increased engagement in learning.
Q. How has StarVista's School-Based Counseling program grown over time?
A. In 2013, we were in 12 schools. Now we're in 40! Program funding has grown from just under $400K in 2013 to $1.3M, as schools have realized the importance of counseling and support programs and are requesting StarVista's services more and more. In the past, schools only wanted group and individual counseling for general education students, but that's changed too. Now we provide counseling, Social-Emotional Learning (SEL) services, prevention services funded through probation, and educationally-related mental health services for Special Education students.
Q. What is Social-Emotional Learning?
A. According to the Collaborative for Academic, Social, and Emotional Learning (CASEL), one of the leading organizations researching and implementing social-emotional learning programs in schools, SEL lessons focus on helping students and teachers manage emotions, maintain positive relationships, and make responsible decisions. The impact is beyond social and emotional growth, as improving these skills has been proven to also help students improve in academics, behaviors, attitudes, and their general ability to learn.
Q. What are some of the innovations that have helped our School-Based Program expand in this way? What is unique about our approach to School-Based Counseling?
A. Our team has always been very forward-thinking and flexible in our work. No two kids and no two schools are the same, so we have made it a priority to adapt our school-based services to whatever each school community needs. We work with the school staff to create an individualized model for what our program will look like in that particular school, which can include group therapy, family therapy, classroom presentations, SEL and Special Ed services. This has really become our strength at StarVista: our ability to customize services for each unique school and its students so that no two School-Based programs look the same.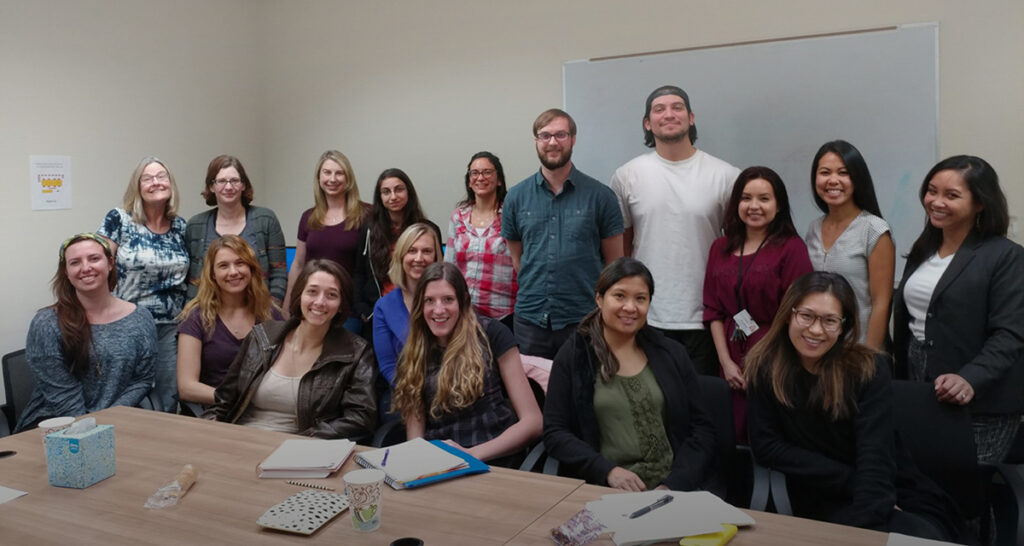 Q. Can you give us an example of what an individualized approach looks like at a particular school?
A. Sure – a good example would be at one of our high schools, there we have two clinicians on campus, five days a week. They provide individual and group counseling, but for the most part are available for students to just drop in and talk about whatever is on their mind that particular day. They also provide crisis intervention if a student appears to be in distress or is expressing thoughts around depression, self-injury, or suicide.
Meanwhile at one elementary school, our program looks entirely different. We have one clinician on site for three days a week, providing an integrated model of Social-Emotional Learning classes and individual and group counseling to students.
At all our schools, we train our staff to see mental health as a job beyond the traditional 1:1 counseling model. Our clinicians enlist the help of parents and school staff, consulting and working with them to broaden their understanding of what mental health can be so that together we can best support our young people. We really see ourselves as clinicians, consultants, and advocates for our students, always with an equity-focused lens.
Q. How does StarVista's approach align with larger trends in the school-based mental health field?
A. StarVista is really leading the curve as more and more schools are diving into SEL. There's a huge movement in education to dismiss the traditional "one-size-fits-all" approach to both academic learning and mental health support and to treat each student as an individual. And that same mentality has really shifted the focus for many to educational equity, which takes to heart the idea that not all students start in the same place academically, emotionally, or socially. Not everyone has the same background, the same means or privileges, but everyone should be given the opportunity to succeed and the tools needed to get there. Our clinicians conduct community-based research to assess the needs of a particular community's students and how our clinicians can best serve those students. Often times that means putting SEL interventions in place, providing crisis intervention supports, as well as advocating for additional academic support services for students who may be behind their peers in the classroom.
Q. Tell me more about the students you serve. What are some of the most common challenges and issues affecting middle and high schoolers in this county?
A. One common theme we hear from our students is the immense need they feel to be the best. All our students – elementary, middle, and high schoolers – constantly feel the pressure to succeed, which is difficult to address because so often these stresses and thoughts are being driven by challenging external circumstances, such as the climate in Silicon Valley, pressures from caregivers and family, and the relative ease of social comparison. Students are constantly measuring themselves against each other and public figures on social media. They're comparing themselves to what they consider to be the "best" and are inevitably falling short. It can be a lot for our youth, on top of their regular academic stresses.
Our students also express issues related to identity and self-understanding, and more and more, we're hearing growing concerns about the current sociopolitical climate. Students are impacted by what they see and hear in current events and politics, and the threat of gun violence has become a huge stressor for our youth. They take part in Active Shooter drills at school, just as they do earthquake and fire drills. It's a very real topic on our students' minds.
Changes in immigration reform policy are also weighing heavily on these youth. Many San Mateo County families have been directly impacted by changes at the national level. We have an unprecedented number of students and families sharing fears about family separation and deportation. We've never experienced this level of stress around the topic of immigration before with our school-aged youth.
Because many of these issues are rooted in a student's particular identity, it's important for our staff to be diverse so that we can relate to and support the needs of every community across this county. Our team members are an intentional reflection of the communities we're working in, and we're very proud of this diversity.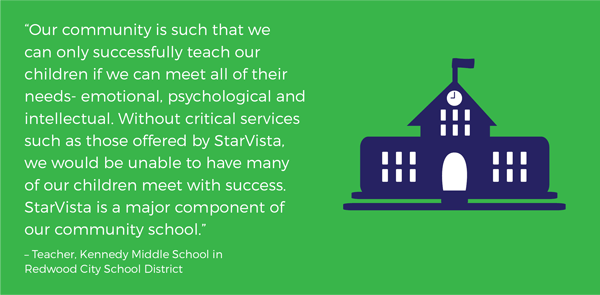 Q. What role does hiring have in the success of your program?
A. Hiring is everything when it comes to the success of our program. Clinicians are the face of StarVista at each school we partner with, and hiring is really about finding the right fit for the program, as well as the school community. When I'm looking for staff, I keep close to heart the motto "hire character, train skill." We bring onboard smart individuals of the utmost integrity and guide them through our trainings, supervision, and support. We have been really lucky year-over-year in assembling our School-Based team from an extraordinary pool of candidates, and I'm really proud of the expertise, diversity, and integrity that these team members hold.
Q. This program accomplishes so much. At the end of the day, why is StarVista's School-Based Counseling program important?
A. So many parents have no idea counseling is available on their child's campus and don't know to ask for it. Years ago, academic counseling was the only resource available to students, so parents and caregivers aren't always aware of other kinds of support. I've heard from so many parents who were concerned about their child and frustrated about not being able to find a convenient, affordable therapist, when all along, StarVista's program had been right on that student's campus. We want students, parents, and community members to know these services exist so that they can access them.
For StarVista, it's about meeting clients where they are at, physically, emotionally, and mentally. If we can reduce barriers to an individual accessing services, we're that much closer to helping the individual in need find their path and get the help they deserve.