Ongoing Support When It Matters Most
SolMateo began its relationship with StarVista back in May 1999 and has been one of StarVista's most important and enthusiastic supporters ever since. Driven entirely by a group of women volunteers, SolMateo – formerly the Community Service League (CSL) – is committed to impacting San Mateo County residents in crisis or challenged by mental health issues and has dedicated their resources, energy, and advocacy to StarVista's Crisis Intervention and Suicide Prevention Center (CISPC) for over two decades.
When StarVista launched a school-focused mental health educational series in 2015, Navigating the Tides of Adolescence, SolMateo jumped at the opportunity to help. The group donated funds to help StarVista secure expert panelists and promote the event. The event was such a success that StarVista went on to host three more panel events on students and mental health, reaching a total of more than 1,000 attendees. "I could sense the hunger in the audience for this type of information, as well as the gratitude of the parents following the event, now armed with new knowledge and coping tools to help them feel less anxious about talking to teenage children," says StarVista Board member, Erick Young. "SolMateo's donation… made it possible to secure the panelists for the events and offer this incredible service to the Silicon Valley community at no cost to attendees." StarVista has hosted Navigating the Tides events at Sacred Heart Schools, Atherton, Serra High School, Carlmont High School, and Hillsdale High School and looks forward to hosting our fifth panel at Serra High School in fall 2019.
SolMateo's support has also allowed StarVista to revamp technology essential to our crisis programming. "A major pain point brought to my attention by the CISPC Director was the inability of onyourmind.net – our online resource for teens to chat anonymously about topics such as suicide, depression, and relationships with trained volunteer peer mentors – to stay relevant with today's mobile-oriented youth," explains Erick.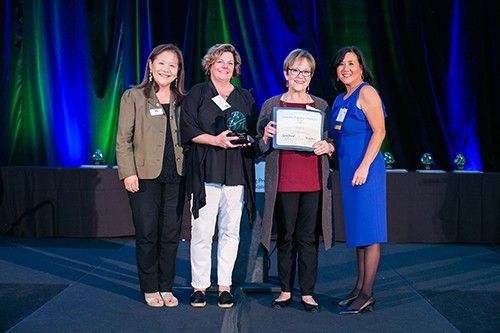 SolMateo recently received the Outstanding Philanthropic Organization award from AFP Silicon Valley, in recognition of their incredible work supporting and promoting local mental health services.
"[The] need for accessible mental health support services targeted towards youth has become incredibly apparent," explains Katerina Catania, MFT/PCC Trainee, a school based clinician who began as an onyourmind.net peer counselor. "It is necessary for teens to have a resource where they can feel comfortable and safe in receiving support."
Thanks to SolMateo, StarVista redesigned the site to become mobile-friendly, allowing users to access it remotely from wherever they are. "Teens can log on to share their problems with peer counselors who can lend a listening ear and provide encouragement, support, and hope," Katerina shares.
"The response has been incredible," says Erick. In just the first few months of 2018, the site received 238,000 visits, up from 13,577 hits over the entire previous year, and a near 300% increase in the number of chatters in the first quarter.
"Thanks to continued donations from SolMateo, the program has been able to impact many, many people in increasingly positive ways," echoes Vlad Morozov, an onyourmind.net peer mentor who started volunteering for the site two years ago. "[Volunteering at onyourmind.net] provided me with a sense of purpose, as well as useful and meaningful skills which I could employ to help people around me, both through the chat room and in my everyday life. I am now a better person because of the things I've learned through participating in onyourmind.net, and I'm sure other volunteers feel the same way."
Reliable funding is essential to the success of programs like Navigating the Tides, onyourmind.net, and StarVista's other crisis intervention services, and SolMateo has stepped up to the challenge, donating more than $700,000 to StarVista's crisis work over two decades. "But their support for StarVista goes well beyond merely writing a check," Erick says. "SolMateo volunteers take to heart the need for collaboration in order to create best practices in the counseling and mental health arena through their direct involvement with the CISPC staff. I am grateful for their longstanding support, and feel certain about the continued success and growth of StarVista's crisis education and intervention work thanks to the contributions of SolMateo. We know this is just a preview of what we will accomplish together in the coming years."
*The name "Community Service League" has been replaced with "SolMateo" in some quotations above.
ABOUT SOLMATEO
SolMateo (formerly Community Service League) is a nonprofit organization of dedicated volunteers committed to "shining light on mental health" in our community. Two annual fundraising events (Holiday Auction & Luncheon and Signature Kitchen Tour) enable SolMateo to be the largest private donor to both MHA and StarVista. Our contributions provide critical financial resources to help sustain and enhance their valuable programs for San Mateo County residents in crisis or challenged by mental health issues.
www.solmateo.org