Dear Friends,
On behalf of the StarVista community, thank you for attending the 27th Annual Starting Line Breakfast this past Friday! It was an honor to be in the company of so many people who care about our community, about StarVista, and those we serve. If you were unable to attend we are sorry to have missed you but please enjoy these highlights from our 27th Annual Starting Line Breakfast.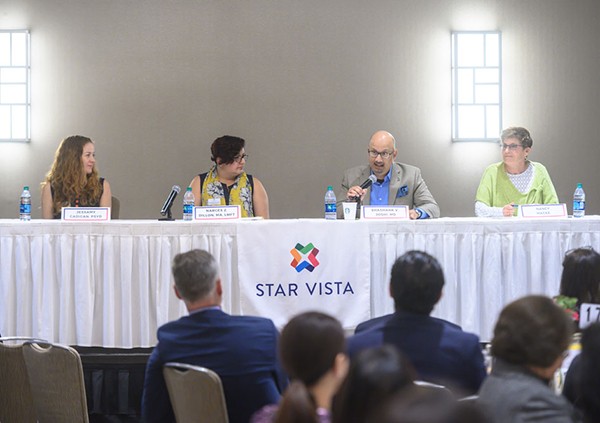 The program included an amazing panel discussion about the mental health of our local youth, including stories, insights and inspiration from our panelists Jessamy Cadigan, PsyD Tobacco Use Prevention Education (TUPE) Mental Health Therapist San Mateo Union High School District, Narges Zohoury Dillon, LMFT, StarVista's Early Childhood and Family Services Department Director, Shashank V. Joshi, MD Associate Professor (Teaching), of Psychiatry and Behavioral Sciences (Child and Adolescent Psychiatry and Child Development), and Nancy Magee, San Mateo County Superintendent of Schools, which was moderated by Lindsay Stark, MA, LMFT, StarVista's Wellness and Recovery Services Department Director.
– Enjoy photos and event highlights from the morning here.
– If you would like to watch the panel discussion click here to see the video.
We would also like to recognize StarVista client Carolina for sharing her story with us. Her amazing journey of resilience and empowerment is truly inspiring. Watch Carolina's story here.
Thank you again for your incredible support!
Warmest regards,
Sara Larios Mitchell, PhD, MACP
Chief Executive Officer