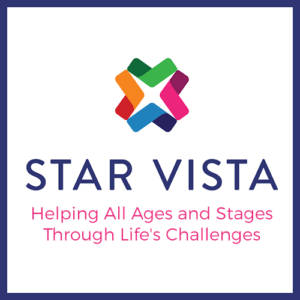 We are proud to announce the launch of StarVista's new brand! Through more than 50 years of service and remarkable growth, StarVista has become the premier thought leader and service provider addressing mental health, youth homelessness, recovery services, and suicide and crisis prevention within San Mateo County. Our new brand reflects our incredible evolution and signals the commitment, passion, and innovation that are at the heart of StarVista's identity.
What does this mean for our community? Under our new brand identity, StarVista reaffirms our commitment to serving people of all ages and stages of life. For years, we have pursued evidence-based innovations that save the lives of our neighbors, and our new, contemporary logo now reflects our high level of clinical leadership and expertise. We believe in the potential of the people we support. We meet individuals where they are, without judgment, and we continuously collaborate with partners to provide the best services possible. This new look represents our bold, enthusiastic approach to empowering people of all walks of life, regardless of background or immigration status, to transform tough life situations into personal victories.
We hope that this new look extends a warm welcome to anyone walking through StarVista's doors, reading our flyers, or picking up a staff business card, whether it be a client, partner, volunteer, collaborator, or donor. Our new logo is our promise to you that you are seen, you are welcome, and you have the potential to shape your life and your community. We're ready to help.
We invite you to visit StarVista's redesigned website at www.star-vista.org to learn more about our new look and the services we provide. Website highlights include:
Search for a StarVista program by population served and type of service provided.
Make a gift using our newly integrated giving platform.
Sign-up for e-news to hear about the latest events, news, and success stories.