HAP-Y Mental Health Toolkit
---
Hello StarVista community! Melissa and Yvette here. We are both HAP-Y Ambassadors (Winter/Spring '21 and Fall/Winter '20) and have compiled a list of resources for the greater community to access in light of Mental Health Awareness Month! We will be sharing our favorite self-care routines, as well as helpful resources for teens. Thanks for reading!
---
Mental Health Vocab
Mental Health– According to the CDC, "Mental health includes our emotional, psychological, and social well-being. It affects how we think, feel, and act. It also helps determine how we handle stress, relate to others, and make healthy choices. Mental health is important at every stage of life, from childhood and adolescence through adulthood."
Coping– There are various definitions for coping: ScienceDirect.org (scientific journal publishing company) defines it as "what people do to try to minimize stress and is commonly seen in problem-focused, that is, directed at reducing the threats and losses of the illness, or emotion-focused, namely directed at reducing the negative emotional consequences". This definition can tie in with Coping strategies, which are methods used to cope with an event.
Coping Strategies– They are actions or series of actions that are utilized in meeting a stressful or unpleasant situation– this can include positive or negative strategies such as stress eating, shopping excessively, or, exercising, taking warm baths, and journaling.
Self-Care — Is best defined as the practice of taking action to improve one's mental, physical, or spiritual health. Self-care can include having a spa night, journaling and meditating, talking to an old friend, or even just watching a favorite movie.
Burnout — Now more than ever, burnout is common in most adults and high schoolers. This means that someone has reached a state of emotional or physical exhaustion caused by an excessive amount of stress. And if not taken proactive action, it can seep into nearly every aspect
of one's life (personal, work, and social) as well as cause damage to the immune system.
Support Groups (how is it helpful?) — Support groups are what you want them to be. A support group is a good way for people to talk about their experiences and to share with each other resources and ways to get through tough times. There is a lot of stigma around support groups because people believe that it's made up of people with mental health problems, but really it's a place for anyone to go regardless of what you are going through. Maybe you want to listen to others, provide resources, or just relax. Whatever it may be, keep in mind that support
groups are a very beneficial way to get involved with your community, communicate with others who might be going through the same things as you, and to expand your knowledge about things happening around you.
Zoom Fatigue — Similar to burnout, Zoom fatigue refers to the exhaustion one experiences after leaving a video call or conference. Symptoms include difficulty concentrating, irritability, muscle/back pain, as well as a prolonged state of feeling tired.
Wellness Tips and Routines
Let's talk about some wellness tips and routines that we enjoy for self-care. To start or end your day, a good meditation will allow you to relax and free your mind before a day of school or work. Close your eyes and listen to the meditation music as you allow your body to break free
from the tension.
A routine Melissa follows is that she wakes up every morning and sets intentions for the day. These might be small goals you would want to achieve as the day progresses or just setting the tone for the day (e.g.: today will be a productive and good day!). Melissa either writes them
down in her journal or writes small post-it notes and places them on her desk.
Another self-care tip is when feeling overwhelmed about something, it's important to step away and take a walk around the block or talk to a trusted friend. Both methods calm the brain as well as activate the parasympathetic nervous system.
Additionally, it is important to clean your workspace or living area. The mantra "messy room, unproductive day" is one Melissa came up with and (attempts) to follow every day. Even if you have no time to clean your entire work area, clearing the clutter in your vicinity will provide a more productive work experience.
Facts/Statistics
Let's talk about facts and statistics. What most people don't know is that children can experience mental health problems, so it's important for them to receive support before it starts affecting their growth. Less than 20% of youth and adults who are diagnosed with mental health problems receive the treatment they need. Think about that. Less than 20%. What can contribute to mental health problems? Well there's a number of reasons but a few common ones are a drastic change in one's life, losing someone close to you, life experiences, and it can sometimes even be because of biological reasons such as genes.
Interesting Movies, articles, books, webinars, etc
Podcasts: The Call Your Girlfriend Podcast— 2 long-distance friends talking about wellness, adulting, and intersectionality! The Girls* In Action Podcast— 4 Bay Area teens discuss topics of intersectional activism, self-care, the history of feminism, and more!
Books: Pride and Prejudice- A book that teaches not to judge one by their looks or social class. Follow Elizabeth Bennet and Fitzwilliam Darcy as they overcome their differences to be true to their feelings for one another. *It's not as cheesy as it sounds, I promise*
Movies: The Perks of Being a Wallflower– Socially awkward teen Charlie is a "wallflower", always watching life from the sidelines until two charismatic high schoolers become his mentors throughout his freshman year of high school. These 2 help Charlie discover the joys of
friendship, love, music, and more. However, as his new friends prepare to leave for college, Charlie's repressed memories threaten to shatter his newfound confidence. This movie is about resilience and has a coming-of-age movie theme to it. Ultimately, the friend group learns how to
bring each other up and support one another with any obstacles they might face.
Rain Man- When Charlie Babbitt's father passes away, the inheritance is the only thing on his mind. However, when he finds out that 3 million dollars will go to a brother he didn't know he had, Charlie, driven by ambition, sets out to look for his brother only to find that he is autistic
and living in a mental institution. As time goes on, Charlie and his older brother Raymond begin to bond, but is Charlie still driven by ambition?
Community Resources/Resources for Youth (SMC)
Monthly HAP-Y support groups every third Thursday of each month for HAP-Y youth ages 16-24
NAMI– Stands for the National Alliance on Mental Illness. Offers support hotlines. The NAMI HelpLine can be reached Monday through Friday, 10 a.m.–8 p.m., ET.
1-800-950-NAMI (6264) or info@nami.org.
National Text Line: Text "Bay" to 741741
National Suicide Prevention Line: 1-800-273 TALK (8255)
StarVista Crisis Center (teen services included) and Counseling Center
Star Vista's Crisis Intervention and Suicide Prevention– 24/7 hotline to call or chat if you or someone you know is feeling hopeless, suicidal, in need of mental health treatment, or if you just want someone to talk to.
You can also call (650) 579-0350 or (800) 273-8255.
Teen Crisis Services:
Teen Text Line (650) 747-6463 and Teen Chat www.sanmateocrisis.org are available Monday – Thursday, 4:30-9:30pm.
Star Vista's Counseling Center– Youth, Adults, Couples, and Families are welcome to reach out for support on ways to cope with challenges and the staff are there to help
---
Order your "Mental Health Matters" StarVista Yard Sign or Poster today!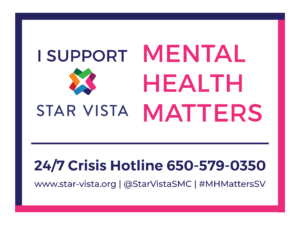 May is Mental Health Awareness Month! Help us spread the word about the essential mental health services we have been providing for 55 years by displaying a "Mental Health Matters" Yard Sign or Poster throughout the month.
Order Now