Dear Friends,  
I hope this message finds you in good health.  
May is Mental Health Awareness Month, a time to bring awareness to mental health and wellness, share resources, and reduce the stigma around mental illness. For 55 years, StarVista has been providing essential mental health services in San Mateo County. Our organization first began in 1966 with our Crisis Intervention & Suicide Prevention Center program, which founded the third crisis hotline in the state of California. Since then, StarVista has grown to 30 programs that address the mental health needs of children, youth, adults, and families in our shared community. From substance abuse, and thoughts of suicide, to family violence and homelessness, we help people persevere and transform some of the toughest life situations into personal victories. 
This month, StarVista is celebrating Mental Health Awareness Month through community events, our website, and social media. Here are some things you can look forward to:  
Mental Health Awareness Month themed blog and social media posts sharing mental health and wellness tips from our Health Ambassadors and staff. Click here to connect with us on social media.  

StarVista's Health Ambassador Program-Youth (HAP-Y) will be holding two virtual events:  

"¡Si Se Puede!" A mental health discussion and workshop for Spanish-speaking youth on May 18 at 6:30pm in collaboration with One Life Counseling.  

"Changing the Stigma: Youth Led Discussion"

A youth-led panel discussion among peers to help spread awareness and education around mental health and wellness on May 25 at 6:30pm in collaboration with San Mateo County's Office of Diversity and Equity (ODE).

The San Mateo County Pride Center is partnering with San Mateo County's Office of Diversity and Equity (ODE), San Mateo County's Mental Health Awareness month planning committee, and CORA, to bring you

"Healing Hope with Expressive Arts,"

a virtual event featuring a guided expressive arts activity and group facilitation by the Pride Center clinical program coordinator, Men Chun Wong, and CORA's LGBTQ+ Clinical Coordinator, Jenna Robinson. 
For more information and to register for these events, click here.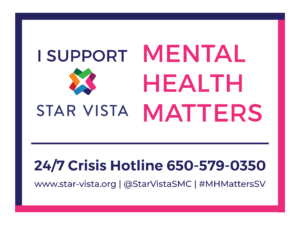 Lastly, I invite you to help us spread the word about the essential mental health services StarVista has been providing for 55 years by displaying a "Mental Health Matters" StarVista yard sign or poster throughout the month. Don't forget to take a photo of your yard sign and/or poster on Social Media and tag #MHMattersSV. Click here to order.
Wishing you continued health and safety.
Sincerely,
Sara Larios Mitchell, Ph.D., MACP
CEO