In these unprecedented times filled with physical distancing and self-isolation, it's become more important than ever to find purposeful ways to connect with our community. At StarVista, we found that Nextdoor, a website that joins neighborhoods and acts as a local bulletin board, became the ideal platform for in-kind support.  
As the Bay Area's shelter-in-place ordinance continued, many of StarVista's clients were suddenly in need of resources due to a job loss or other impact of COVID-19. While our staff continued to serve our clients through case management, crisis prevention, and other services, we needed to find a way to help them with everyday essentials like technology, school supplies, and baby needs.  
StarVista's staff began posting in their individual Nextdoor neighborhoods with specific client requests. From Pacifica to Palo Alto, the entire Peninsula was immediately ready to provide StarVista with items that created a lasting impact on our clients during this pandemic. Our neighbors not only donated their unused products, but also took the initiative to buy brand-new items to support clients' individual needs.  
Read on for more stories of hope that helps and heals. 
Care packages for families without printers or art supplies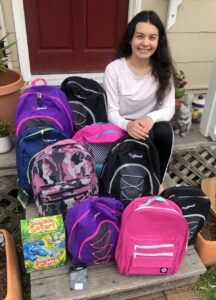 Our Healthy Homes team had clients who were struggling to keep their children busy as the school year winded down and the shelter-in-place order extended. In Pacifica, one Nextdoor family saw our need and jumped on the opportunity to make a difference. The donor collected colorful backpacks, filling them with enough art supplies to keep the kids busy and happy. 
With nine incredible backpacks, our Healthy Homes families had the opportunity to give their children new creative outlets. Our case manager shared that all her clients were so happy and appreciative to have new things to entertain their kids with during the final months of quarantine. 
Laptops, iPhones, and Kindles, oh my! 
As schools transitioned to online learning and home offices became the new normal, families without ready access to technology struggled with the changes. Some of our clients included a single mom who lost her job, a foster child sharing laptops with 5 other kids, and a single mother of four young children. It was clear that the need for technology was stronger than ever, so our staff utilized Nextdoor to connect with new populations ready to help. 
After reaching out on Nextdoor, StarVista linked up with half a dozen donors ready to give out laptops. From Macbooks to Chromebooks, the computers we received were perfect for supporting our clients. 
In addition to donating two Macbooks, one donor took the time to search for other unused technology and surprised StarVista with an iPhone and an Amazon Kindle. These acts of kindness may seem small to our donors, but to our clients, these items are life-changing— a laptop to work on or a Kindle to use for online textbooks can set our clients up for a successful future.  
Breastfeeding supplies for a new mother
Motherhood is already a difficult journey, and one Healthy Homes client was tackling taking care of her one-month-old baby with insufficient resources during a pandemic. With limited funds and without access to health insurance, she was unable to get the breastfeeding supplies she needed as a new mother. One Palo Alto donor saw our Nextdoor request and was able to drop off not only a high-quality breastfeeding pump, but also a set of several unopened baby bottles perfect for her use.  
From work to healthcare to leisure, every aspect of life has been impacted by the COVID-19 pandemic. Our clients are already dealing with a variety of challenges, and thanks to our neighbors on Nextdoor, we're able to help them live the life they deserve.  
Nextdoor allows nonprofits and small businesses to reach out to donors and customers who are eager to make a difference. The acts of kindness we've seen from the local community have been inspiring and encouraging, and help StarVista achieve our mission of changing lives. Visit StarVista's Nextdoor profile or recommend our agency to your neighbors at https://nextdoor.com/pages/starvista/.