As an agency delivering counseling, skill development, and crisis prevention services to children, youth, adults, and families, we strive to help folks learn the skills they need to succeed in their goals. Teaching self-care techniques is a big part of that work.
Every year, StarVista hosts a Staff Self-Care Retreat—a day committed to giving all staff the opportunity to practice self-care in ways that are true to their unique needs. This past June, 130 staff and interns met under the redwood trees in Belmont and chose to engage in quiet activities like origami and jewelry making, physical activities like yoga and Hip-Hop dancing, or simply enjoyed time alone or with colleagues.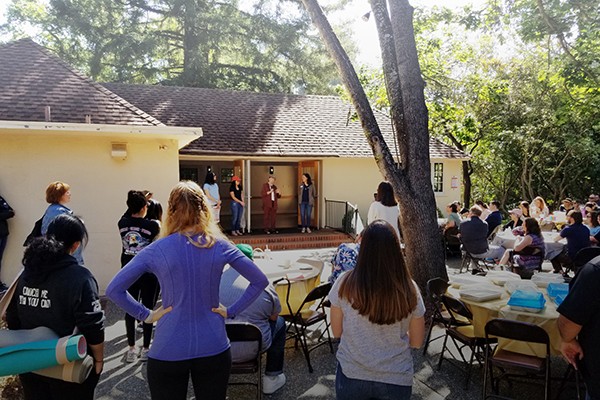 Member of the organizing team, Melissa Guariglia PsyD, Professional Training Director and Program Manager for Foster Youth Education Services, explained, "The retreat is really important to StarVista, it's about helping staff get back to baseline. I think our staff sometimes see self-care as this daunting thing they don't have time for, so, in addition to the retreat, StarVista has policies in place, like flexible sick time, holiday pay, and personal days, to make sure staff have the time they need to care for themselves, however that looks to them."
Kara Murano, Human Resources Coordinator and another member of the organizing team, shared more insight into what makes this event special, "We really like to include staff in the planning, which makes it even more engaging. For example, staff come up with and lead the activities so we always have something new. We also collect feedback and make an effort to tailor the event where we can, like, this year we provided a broader variety of lunch options with the aim that there'd be something for everyone."
Leading one of the hour-long activities was Dr. Clarise Blanchard LMFT, a Clinical Director who oversees programs serving children, youth, and women. As part of a leadership team that sets high standards for quality and program outcomes, Clarise is passionate about making sure staff and clients experience holistic well-being.
During her activity, "Self-Care Exploration," Clarise explained that self-care can be further broken down into 5 Types: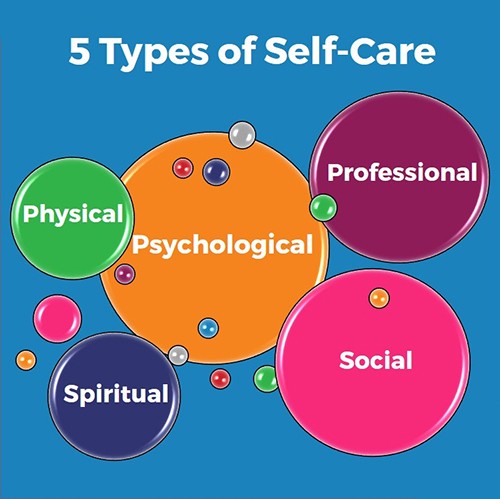 Physical self-care includes eating a nutritious diet, exercising, and getting enough sleep. 610
Psychological self-care includes learning new things, going new places, or doing things that are comforting.
Social self-care is about maintaining healthy relationships, meeting new people, and engaging in conversation.
Spiritual self-care is about setting time aside for reflection, and spending time in nature.
These types show that some forms of self-care are simple and not time-consuming, while others can be more involved and may require more effort. The key, Clarise said, is that "no one should force themselves to do these things. The types offer suggestions of ways to increase positivity and enjoyment in one's day-to-day life."
Clarise also explained that "micro-units" of self-care—activities comprising just 10 minutes, 3 times a day—can have a significant impact on overall contentment. For those who feel that's asking a lot of their time and attention, Clarise noted, "even 5 minutes twice a day doing something like deep breathing or making a to-do list, whatever is calming for you, can have a great effect too!"
In terms of the retreat, Clarise added, "Combined with other engagement events held during the year, we really want staff to feel like they can take time to care for themselves so we can all continue to care deeply for the people in our community."
---
Read more about self-care here.
---
July 24th is International Self-Care Day!

The International Self-Care Foundation (ISF) is a UK-based charity with a global focus. A champion that sees self-care as an integral part of people's lives, ISF is striving to make self-care a more integral part of family, community, organizational, and social life.

Check out their website to learn more about self-care!