Taste of the Peninsula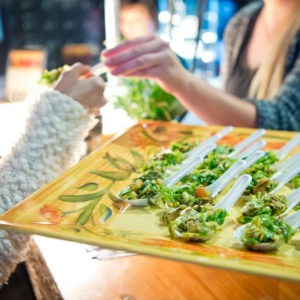 Mark your calendars for StarVista's annual Taste of the Peninsula event on Thursday, October 18th! Join us for an evening of wine and beer tasting, culinary exploration, silent auction, and celebration at Devil's Canyon Brewery in San Carlos!
Now in its 4th year, Taste of the Peninsula has become a staple event within the San Mateo County community. Every year, over twenty restaurants and wineries gather to provide guests a delectable wine and culinary experience, featuring only the finest. From Burmese and bruschetta, to sliders and hand-scooped ice cream, guests enjoy a sampling of the tastiest bites that the Peninsula has to offer. And between each savory and sweet sample, there's a delicious array of local wines and brews to taste!
The tasting event bubbled up from the imagination of long-time StarVista Board member Roger Toguchi. 'We wanted to find a way to connect the larger community to StarVista and the incredible work the team here does,' he explains. 'We thought, what better way to bring people together than sharing a fun evening with a great organization!'
From initial inspiration to execution, the event has been a huge success, with guests returning year-after-year. Over 200 people attended last year's event, a Taste of the Peninsula record! Guests are lawyers, bankers, architects, entrepreneurs, local business owners, and individuals – all who share a passion for the mental health, well-being, and vibrancy of the community where they live and work.
'We're excited to offer the event again this year,' says Robin Rudikoff, Director of Development and Marketing at StarVista. 'It's so much fun to see the community come together in their support for StarVista, while getting to explore new restaurants and wineries, win bottles of wine at our wine bottle raffle, and bid on great silent auction prizes!'
We hope you join us this year and help us reach our goal of $65,000 to support the 41,000 children, youth, adults, and families that benefit from StarVista's high-impact services each year. Each ticket purchased, and donation made at the event, supports the most vulnerable populations in our community, from homeless teens and foster youth to struggling families and individuals in crisis. We hope you'll join us!
Event details:
Thursday, October 18th, 5:30-8:30pm
Devil's Canyon Brewery, San Carlos
Thank you to our generous event sponsors!
Gold Star:
Silver Star:
Bronze Star:
Alina and Kevin Lloyd
Elise and Greg Shelley
Roger and Betty Toguchi
Rising Star:
Sanjay Aggarwal
Elaine and Burt Cummings
Michael and Judy Garb
Seth Schalet and Claire Berney
Steve and Wendy Shray
Howard and Dr. Evelyn Yang
Erick Young and Thu Pham
Interested in becoming an event sponsor?
Click here to download a sponsorship packet today.
Highlights from 2017!